By Leona Kesler on Sep 21, 2020 with Comments 0
---
Chuck Pot Roast is an American dish which is easy to prepare, costs little but has a flavor and taste which literally talks. The preparation time is minimum, but the result is mouth watering. For cooking you can easily use an oven, a slow cooker or a stove top.
The exciting flavor of Chuck Pot Roast comes when it is cooked on low heat. This makes the fat and the meat tender and helps the melted fat give the same flavor all over. It is recommended to add water so that the pan remains moist therby adding to the rich flavor and appetizing aroma.
WHAT YOU'LL NEED
chuck roast boneless (3-4 lbs)
flour (allpurpose – 1/2 cup)
condiments to taste (salt & pepper)
oil – vegetable or olive (2 tablespoon)
skillet
red wine (1/2 cup)
beef stock (1/2 cup)
sliced onions (1 cup)
minced garlic (1 tablespoon)
dutch oven or roasting pan
pair of tongs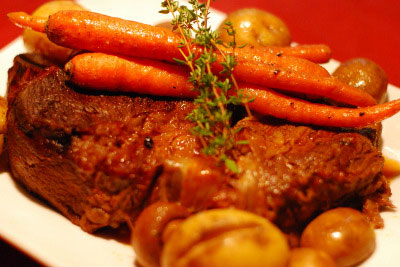 INSTRUCTIONS
Put the oven on pre-heating mode, setting the temperature to 225degrees Fahrenheit.
Put the oil in the skillet for heating.
Mix of the flour, salt and pepper and rub these ingredients on the meat.
Place the meat in the skillet and brown it uniformly on both sides for about half a minute. Make sure that the oil is not too hot otherwise the meat will get burnt. The will allow the heated oil to soak in the mixture as also help it tenderize when the actual cooking is on.
Slowly pour the mixture of red wine, onions, garlic and beef stock to the meat in the pan and let it simmer for some time for the ingredients to mix well.
Once done, using tongs, transfer the meat to the pan along with the oil. Cover the pan tightly.
Set the time to 3 hours. It is done when the flakes come off with a fork. In case a meat thermometer is at hand insert it into the roast and check after 30 seconds.
Maintain temperature at 160 degrees Fahrenheit during the roasting.
Once the chuck Pot Roast is cooked, add-ons like mashed potatoes, roast vegetables, biscuits or rolls can be served with it.
TIPS AND WARNINGS
When using a slow cooker, cook on high for 4-6 hours after placing the browned meat, onions and garlic into it
In case of a stove top, the meat has to be simmered for 3-4 hours with the top covered.
Filed Under: Food & Cooking
About the Author: Leona Kesler is a head-chef at a very popular food restaurant in New York. Also she is a blogger who shares her experiences, tips, and other informative details about food and cooking. Her recipes are featured on many magazines.
Comments (0)