By Leona Kesler on Nov 04, 2010 with Comments 0
---
Cooking round beef roast does not require any expertise in order to get it right. All it requires is good quality beef, an oven, and couple of vegetables. Viola! You have a delicious dish to serve for the entire family.
WHAT YOU'LL NEED
meat thermometer
plastic wrap
1 pc of head celery
Kosher salt
roasting pan
oven
5 pcs. medium size carrots
chef's knife
cracked pepper
cutting board (plastic)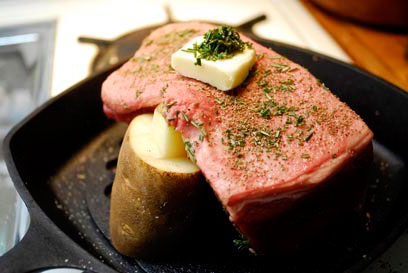 INSTRUCTIONS
Get rid away of the excess fat. Leave a thin layer of fat that is enough to cover the roast. Prepare at least 1 tbsp of black pepper and 4 tbsps. of kosher salt and rub these two on to the roast. Cover the meat with the use of a plastic wrap; let it sit at room temperature for about 1 or 2 hours before cooking it.
Cut the celery into at least 4 inches and then wash with water. Get the carrots and peel them. Then, cut the carrots half in lengthwise and another half in widthwise. Place the celery and carrots right on the top of the roasting pan placing them in a square pattern. This will give the roast to rise a bit lessening the chance of getting it soaked and burned while cooking. Also, this will give more flavors to the meat too.
Pre-heat the oven for about 450 degrees. When the beef is already at room temperature, place the meat on the roasting pan where the vegetables are already on it. Then, put the pan inside the oven. Wait for about 15 minutes, when there form a brown crust, you must turn down the heat to reach 300 degrees. This will make the beef cooks slowly while adding more flavors to the meat.
Get the meat thermometer and stick it to the side of the meat. Check the internal temperature if it reaches your desired temperature for the meat whether it's rare, medium-rare or well-done.
Get the roast at least 5-10 degrees lesser to your preferred internal temperature. This will make the beef continue to cook while it's out and not overcook itself. Then, let it sit for about 10-15 minutes. This will let the meat juices to settle and remain inside the meat.
With the use of a knife and cutting board, carve the meat into couple of thin slices and then serve it.
Filed Under: Food & Cooking
About the Author: Leona Kesler is a head-chef at a very popular food restaurant in New York. Also she is a blogger who shares her experiences, tips, and other informative details about food and cooking. Her recipes are featured on many magazines.
Comments (0)