By Leona Kesler on Nov 04, 2010 with Comments 0
---
Top round steak is indeed a delicious dish to cook and can make any mouth water. However, it entails some serious work such as pounding the meat in order to make it tender since this kind of beef meat is tougher compared to the others.
WHAT YOU'LL NEED
2 cups of water
meat pounder
1 cup of flour
top round steak
1 bell pepper
1/2 tsp. black pepper
1 can of mushrooms
1/4 tbsp. salt
2 cloves of garlic
3/4 cups of vegetable oil
1/2 tsp. of black pepper
2 onions
1 tsp. of Worcestershire sauce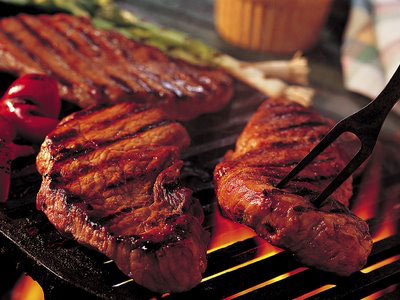 INSTRUCTIONS
With the use of the meat pounder to tendernize the meat. Use the side of the meat pounder that has the larger points after which slice the top most round of the meat into small chunks or thin strips.
Mix in a bowl the following: flour, salt, and black pepper. Then, get the round steak and put it right inside the bowl with the mixture to fully coat it with the seasoning.
Chop the bell pepper, onions and garlic into small pieces. Then, get the can of mushrooms, open it up and get the water out of the can.
Put the skillet on top of the stove on a medium heat and pour 1/4 cup of oil into it. Place the bell pepper, mushrooms and garlic and sauté them. Remove the skillet out of the heat and place the vegetables on a plate.
Next, put back the skillet on the stove and pour at least 1/2 cup of oil and wait till the oil heat up. Get the steaks that are coated with flour and put them on the skillet. Cook the meat nicely until such time the meat achieves a light brown color.
In another bowl, mix water with Worcestershire sauce and place the onion cooked mixture which was prepared earlier. Mix them together and eventually pour the sauce on top of the top round steak.
Get the lid and cover the pan tightly. Let it simmer for about 1 hr. and 30 minutes. The water and flour will slowly get cook and makes up the gravy for the meat. Continuously stir the food in order not to have meat chunks sticking right at the bottom.
After it is cooked, you can make this as toppings for noodles or rice or eat it as it is.
Filed Under: Food & Cooking
About the Author: Leona Kesler is a head-chef at a very popular food restaurant in New York. Also she is a blogger who shares her experiences, tips, and other informative details about food and cooking. Her recipes are featured on many magazines.
Comments (0)