By Leona Kesler on Nov 09, 2010 with Comments 0
---
In cooking rice, the most important thing to remember is the measurement. How much cup of water is needed for a cup of rice? Well, it is quite simple actually. You simply add 1/2 cup of water for the total cups of water you put in. The ratio is 1 cup of rice is equal to 1 cup of water. Then, at the end add 1/2 cup of water. But the water measurement depends also on the type of rice you are going to cook.
WHAT YOU'LL NEED
cup (for measuring the water and rice)
rice cooker
rice
INSTRUCTIONS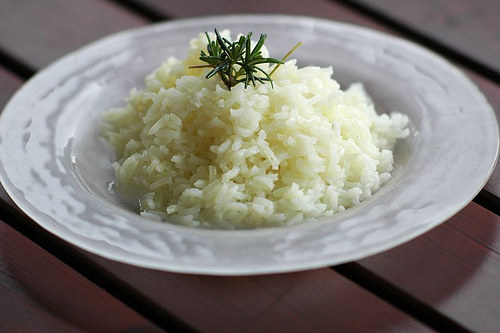 Before rinsing the rice, read the package carefully. There are some rice which you do not need to wash them because they are already filled with folic acid, niacin, thiamine and iron. If you attempt to rinse the rice you are removing minerals and vitamins incorporated with the rice. Unless specified by the packaging not to rinse the rice, do not. However, if there is no specification, it is advisable to rinse the rice with tap water in order to get rid of contaminants and pesticides found on every grain of rice.
Continue rinsing the rice until the water becomes clear. Then, drain the water from the rice, as much as you can.
After, soak the washed rice for about 30 minutes or so. This is only optional if you want to have stickier rice on the plate.
Then, comes the fun part: measuring the amount of water in proportion to the rice. Here is a guideline of water measurement per cup of rice:

long grain (white) – 1 3/4 cups
medium grain (white) – 1 1/2 cups
short grain (white) – 1 1/2 cups
long grain (brown) – 2 1/4 cups
parboiled – 2 cups
If you are cooking Indian rice such as Jasmine or Basmati, you need to put in less water in order to come up with dry rice. Water measurement is 1 1/2 cups of water per cup of rice.

To give more flavours, you can add a pinch of salt or a slice of butter. This one is optional.
Wipe the pot with rag or a soft cloth.
Then, put the pot right inside the rice cooker cover it with the lid. Then, turn the switch on. You will hear the switch will give that click sound when the rice is all done.
Unplug, and wait for at least to 10-15 minutes. This will make the rice sit in room temperature and rest.
Then, serve to your family or guests.
Filed Under: Food & Cooking
About the Author: Leona Kesler is a head-chef at a very popular food restaurant in New York. Also she is a blogger who shares her experiences, tips, and other informative details about food and cooking. Her recipes are featured on many magazines.
Comments (0)