By Leona Kesler on Nov 09, 2010 with Comments 0
---
Grilled tenderloin or steak is best serve together with grilled potatoes. In this way, you do not need to worry having the potatoes start to fall apart when you serve them.
WHAT YOU'LL NEED
soap
mixing bowl
salt
black pepper (fresh and cracked)
grill
oven mitts
serving platter
2 tablespoons of olive oil
bamboo skewers
aluminium foil (heavy duty)
grill tongs
bowl of water (large)
brush (vegetable scrub)
1 tablespoon of rosemary (freshly crushed)
1 pound of potatoes
water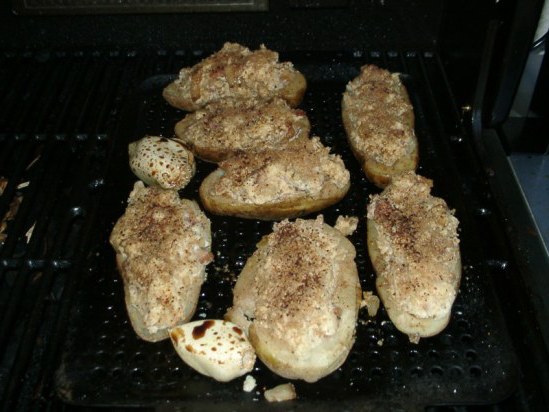 INSTRUCTIONS
Before cooking, you must preheat the barbeque grill and set it on medium heat.
While waiting for the grill to heat up, wash the 1 pound worth of potatoes with soap and rinse them with water. In order to remove the dirt found on the skin, use the vegetable scrub brush to do so. Do not attempt to cut or peel the potatoes.
Then, place the potatoes inside the mixing bowl
Immerse the potatoes inside a bowl of water and let it soak for about 10 minutes. This technique will eliminate the possibility of burning the potatoes while being cooked on top of the grill.
After which get hold of salt, black pepper, olive oil and rosemary and toss the potatoes with this mixture.
Thread at least 3-4 potatoes for each bamboo skewer. Be sure you leave approximately half an inch as a space between each potato.
Then, put the skewers right on top of the rack (barbeque grill). They should be place away from the hottest part of the grill.
Wait for at least 7 up to 15 minutes in order to cook potatoes or until such time that each potato is already tender. Then, turn the bamboo skewers for every 5 minutes with the use of either the grill tongs or the oven mitts.
Before you remove the potatoes from the grill, you must check whether they are already tender. You can test this by pinching the potato with the use of a bamboo skewer. If the skewer gets in to the potato without any resistance at all, then the potatoes are all done. Some potatoes get cook for about 8 minutes while some about 20 minutes. It is a must to check the potatoes regularly.
When the potatoes are all done, put them on a platter and let it sit for about 1-2 minutes and serve.
Filed Under: Food & Cooking
About the Author: Leona Kesler is a head-chef at a very popular food restaurant in New York. Also she is a blogger who shares her experiences, tips, and other informative details about food and cooking. Her recipes are featured on many magazines.
Comments (0)