By Leona Kesler on Nov 09, 2010 with Comments 0
---
When was the last time that you have cooked fresh radishes? For sure, you already forgot about that day. Today is the right time to rekindle the moment where you cook radishes and serve it to your family or your guests aside from the fact that radishes are fat-free, each serving is consists of about 20 calories only and gives you approximately 30% of vitamin C.
Radishes are great as snacks or side dish. One good radish recipe is the Radish Top Soup. This is great during winter or for dinner when you want to sip a healthy soup while eating a sumptuous meal together with your family.
So, are you up for the challenge? Come on, radish tops will definitely make you want to cook and eat more radishes.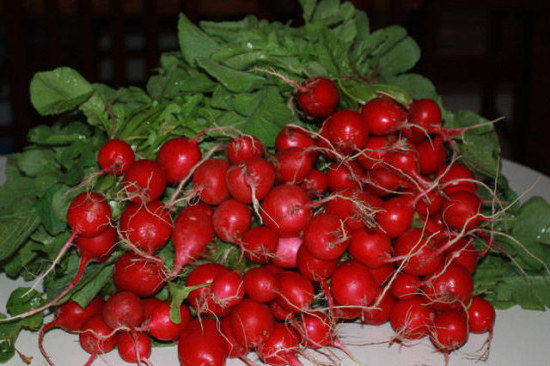 WHAT YOU'LL NEED
salt
black pepper (fresh and cracked)
1/2 cup of heavy cream
6 tablespoons of butter (sliced)
6 cups of chicken stock
8 cups of radish leaves
1 cup of onions (chopped)
2 cups of peeled potatoes (diced)
INSTRUCTIONS
Turn on the stove on a medium-high heat. Then, place a saucepan.
After the saucepan begins to heat up, add 4 tablespoons of sliced butter. Scatter the butter until it now turns in liquid form.
Add 1 cup of onions (chopped) and cook the onions for about 5 minutes or so or until the onions turn into to golden brown.
Then, get hold of radish tops and stir them together with the onions. Cover the saucepan with the lid and cook the onions and radish tops on a low-heat for about 8 to 10 minutes.
While the radish tops is still cooking, on a separate pan cook the raw potatoes with the use of the chicken stock. Add up a 1 teaspoon of salt. Wait, until such time the potatoes will become soft.
When the potatoes are already cooked, combine them with the radish tops and cover the saucepan for about 5 minutes in order to combine the two flavours.
After which, with the use of a blender or a food processor puree the potatoes and radish tops.
When it's all done, add 1/2 cup of heavy cream and plus the 2 tablespoons of butter into the mixture.
Add salt and freshly cracked pepper into the soup. Then, serve the soup while it is still hot to your family or guests.
Filed Under: Food & Cooking
About the Author: Leona Kesler is a head-chef at a very popular food restaurant in New York. Also she is a blogger who shares her experiences, tips, and other informative details about food and cooking. Her recipes are featured on many magazines.
Comments (0)