By Leona Kesler on Nov 09, 2010 with Comments 0
---
If you have been craving to have pork tenderloin for dinner, for sure you have been preparing yourself on how to cook such delicious meat. Well, for starters it would be best to cook the meat with the use of an oven. This way the flavours will stick on the meat while giving your entire family a sumptuous dish to munch on.
Apart from cooking the tenderloin, you also must consider what side dish you want to add on. It can be steamed vegetables or celery (sautéed). If not you can add mashed potatoes or rice perhaps.
To top it all, be sure you have red wine ready. This is the perfect drink to match with delicious and well-cooked pork tenderloin.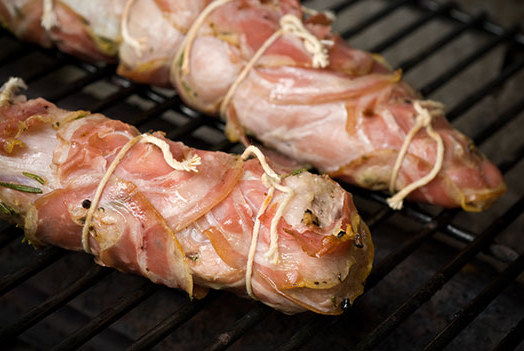 Whether you are cooking for a family of 3 or party for 20 people, you can never go wrong with cooking pork tenderloin.
WHAT YOU'LL NEED
1 pound of pork tenderloin
salt
black pepper (fresh and cracked)
roasting pan
metal rack (for the roasting pan)
INSTRUCTIONS
The oven should be preheated approximately 350 degrees F. While the oven is being prep, you will rub the meat with salt and black pepper right on top of it. If you want to add more flavour to the pork tenderloin, you can add a bit of lemon juice, or different herbs and spices.
Get hold of a roasting rack and place it on top of the roasting pan. These two will allow the meat drippings to be placed on the pan. This will keep the fat (drippings) right away from the meat.
Put the roasting pan right inside the oven once the oven has reached the temperature of 350 degrees. Cook the tenderloin of about 3/4 pound within 25 minutes and for 1 pound tenderloin for about 35 minutes.
Place a meat thermometer right inside the meat in order to check for the internal temperature. The temperature that you are looking for here is 155 degrees.
After the tenderloin achieves the 155 degrees as temperature, let it cool down. The meat will still continue to be in the cooking process even if it is already outside the oven. Be sure the temperature reaches 160 degrees before you even start serving.
When it's all done, you can a side dish like steamed vegetables and of course do not forget the delicious applesauce to complete the tenderloin dish.
Filed Under: Food & Cooking
About the Author: Leona Kesler is a head-chef at a very popular food restaurant in New York. Also she is a blogger who shares her experiences, tips, and other informative details about food and cooking. Her recipes are featured on many magazines.
Comments (0)