By Leona Kesler on Feb 06, 2018 with Comments 0
---
Lamb chops are a great option to have for lunch or dinner. They are a classic favorite all over the world. The following recipe shows a great way to prepare lamb chops.There are a lot of methods one can use to season the lamb chops. You can use a many spices or even decide to make your own sauce. Mint jelly, pesto, apple sauce are all very complimentary to the lamb chops. If you rub the lamb with a mix of herbs that you prefer, the dish will turn out great. Try different things and enjoy. This dish serves four.
Items You'll Will Need:
Food Processor
Garlic Clove
Lamb Ribs/ Loin Chop (8) 1 inch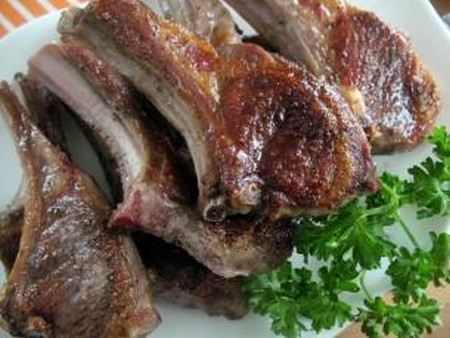 Mint (1 cup)
Mustard (2 teaspoon)
Olive Oil (Non Virgin) (1 tablespoon)
Parmesan Cheese ( ¼ cup)
Almonds (sliced) ¼ cups)
White Wine Vinegar (1 tablespoon)
Apple (chopped) ( ½ cup)
Apple Jelly ( ½ cup)
Kitchen Knives
Broiler Dishes
Step 1
Wash off the lamb chops in cold water. Use your kitchen knives to remove excess fat from the lamb chops. Season the lamb chops with the seasonings of your choice. Make sure the chops are seasoned on both sides.
Step 2
Put the lamb chops on a broiler pan. Make sure the broiler rack is not hot. It should be room temperature.
Step 3
Broil the lamb chops approximately 3 to 4 inches from the broiler. Cook them for about 7 to 11 minutes for a medium result. Turn the lamb chops once during the cooking process.
Step 4
Serve the lamb chops when they are hot. Enjoy.
Suggestions
You can make a complimentary condiment for the lamb chops. To make a mint pesto you will have to mix a clove of garlic, a cup of fresh mint leaves, a 1/8 teaspoon of pepper inside of a food processor. Pulse the ingredients. Add olive oil a little at a time up to 3 tablespoons. Add ¼ cups of parmesan cheese and ¼ cups of slivered diamonds. Blend until they are smooth. Serve the lamb chops with small drops of pesto.
It would be a great to make a complimentary apple glaze condiment for the lamb chops. To make this apple glaze, warm 2 teaspoons of mustard, ½ cup of jelly, and a dash of pepper in a pot. Put in ½ cup of apples, chopped. Allow it to come to a complete boil. Then, lower the heat of the stovetop and allow it to simmer for a minute. Stir the mixture and prepare the lamb chops. Place a good sized portion on the apple glaze directly on the plate with the cooked lamb chops. Serve the apple glaze with the lamb chops. Eat while hot. Enjoy.
Filed Under: Food & Cooking
About the Author: Leona Kesler is a head-chef at a very popular food restaurant in New York. Also she is a blogger who shares her experiences, tips, and other informative details about food and cooking. Her recipes are featured on many magazines.
Comments (0)