By Leona Kesler on Oct 04, 2010 with Comments 0
---
You might think that cooking live lobsters is a difficult task. But the fact is, it is just a cinch to do. If you are capable of boiling water in a pot, then you can also learn how to cook a lobster. You need to learn how to crack a lobster since eating a lobster can be menacing. Simply follow the steps below so you can cook a delicious lobster dish with ease. Learn to cook a perfect lobster recipe just the same as the ones you get from your favorite seafood restaurant.
One of the easiest and trouble-free ways to cook lobster tails is by baking. Resulting in a juicy lobster tail, this method of cooking can be done using your standard household oven. If you overcook while using this technique, it is still more forgiving than cooking a lobster tail with broiling.
You can bake a lobster tail in two ways. First method is by standard baking and the second way is to use an aluminum foil to wrap the tail. Wrapping the tail using aluminum foil will be the preferred method if you don't want the meat to dry out and if you have a large lobster tail.
In baking a 10 ounce lobster tail, follow the directions below: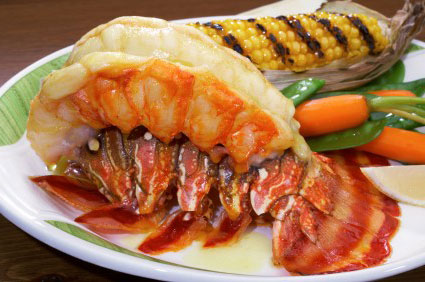 How to Cook Fresh Lobster Tails
Hold the lobster tail in your hand and get a pair of kitchen clippers. As close to the side as you can, start cutting down one side of the lobster tail.
Down the other side of the lobster tail, make another cut.
At the base of the tail, cut the shell across the middle.
Peel back after grabbing the top of the shell. For presentation, you can cut the membrane away from the meat, but this is only optional.
Cut around the lobster meat using a sharp knife. Once the lobster is done, removing the meat from the shell will be made easier.
Prepare the marinade for the lobster. Combine 3 tablespoons of lemon juice, white pepper, a pinch of paprika, clarified butter, salt and garlic powder.
Sprinkle the mixture lightly over the lobster tail then marinade.
On a sheet of aluminum foil, place the marinated lobster tail. Completely seal the lobster tail by folding up the ends of the foil. Preheat the oven to 450 degrees then bake the lobster tail following the chart below.
Monitor the lobster tail closely so that it does not burn. Cooking times may vary depending on the size and weight of the lobster tail.
Unwrap the tail once it is done. Enjoy this delicious treat more by dipping in butter.
Filed Under: Food & Cooking
About the Author: Leona Kesler is a head-chef at a very popular food restaurant in New York. Also she is a blogger who shares her experiences, tips, and other informative details about food and cooking. Her recipes are featured on many magazines.
Comments (0)