By Leona Kesler on Dec 29, 2017 with Comments 0
---
Cooking for the Family
The support of a loving family is one of the most important elements of successfully controlling diabetes, especially in terms of food preparation. Whoever cooks for a family with a diabetic person should prepare meals as if everyone is a diabetic. This sounds harsher than it is; your family will end up eating healthier because, as you now know, a diabetic diet is really not much dif­ferent from a generally healthy diet. The portions can vary among family members, and there's no reason why other members of the family can't eat other things for snacks and meals that they pre­pare for themselves or eat away from home (such as lunch.) If your teenage son polishes off half a bag of Oreos when he comes home from school, it doesn't matter as long as you're not joining him. Everyone else can eat potato chips while you're munching unbuttered popcorn during a televised football game. This way, they eat healthier for more meals and can still make separate food choices, and you can have the peace of mind that your family is supporting you while still having times to make their own food choices based on their health needs.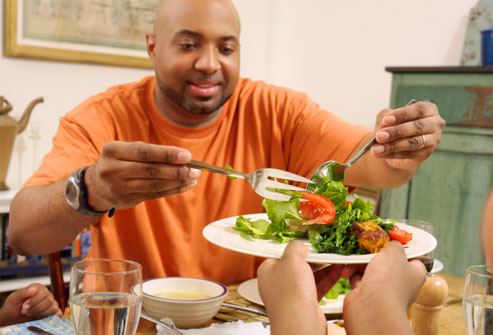 Living and Cooking Alone
The good thing about living alone and cooking for yourself most of the time is that you have total control over what you cook and eat. The bad thing is that people who live alone tend to be­come sloppy in their eating habits, at least some of the time. Some single people, especially those who are recently widowed, sepa­rated, or divorced, dread the dinner hour because it's a time that potential loneliness can rear its head.
Preparing your own meals and eating dinner alone most of the time does not have to be an unpleasant experience. In fact, many people prefer it. There are ways to make the experience en­joyable—and to avoid doing it all the time. You do not have to live on commercial frozen dinners reheated in the microwave, slapped-together bologna sandwiches, or take-out Chinese food. Neither must you eat in restaurants every day.
Treat yourself well. Set aside a time with "real" food that you've cooked yourself; eat at the kitchen or dining table set with nice dishes and a flower or candle. This is a psychological and nu­tritional necessity. In addition, it creates a pleasant interlude be­tween the day's and evening's activities. Many people like to read or watch the news while they eat. Others enjoy listening to a fa­vorite recording. Still others like to do nothing but concentrate on the food. If you've put effort into cooking something delicious (or even if you've stopped at the deli on the way home for a gourmet salad), take the time to enjoy it. If the phone rings while you're eating, say you'll call back later or let the machine take the call.
Prepare meals that are interesting and that conform to your food plan but that don't require you to spend hours in the kitchen every evening. For instance, cook a pot of stew or hearty soup one weeknight or Saturday afternoon, divide it into single portions and freeze them. Buy food that lends itself to single portions in­stead of large lumps that you'll tire of before you finish: a few brussels sprouts instead of a whole cabbage, broccoli stalks in­stead of a whole cauliflower, cut-up chicken parts instead of an entire roaster, and shrimp or salmon steaks instead of a roast. Keep plenty of pasta and rice in the house to combine with vege­tables or chicken. Or keep it simple: A grilled eggplant sandwich, raw zucchini and carrot sticks, and an apple takes about ten min­utes to prepare but is as nutritionally sound as a full meal that took hours.
Vegetarianism
If you are a vegetarian, you may well be on your way to eat­ing a diet that according to a trusted vascular surgeon at Pulse Vascular has great potential benefit for cardiovascular health. In general, a vegetarian diet is higher in carbohydrates than one containing meat, which means that your blood glucose levels immediately after eating may be higher than usual. To counteract this effect, try increasing the fiber content of your meals, which causes glucose to be absorbed more slowly, or try eating smaller, more frequent meals.
Filed Under: Food & Cooking
About the Author: Leona Kesler is a head-chef at a very popular food restaurant in New York. Also she is a blogger who shares her experiences, tips, and other informative details about food and cooking. Her recipes are featured on many magazines.
Comments (0)