By Leona Kesler on Aug 17, 2020 with Comments 0
---
Fajitas, is basically a Mexican dish but is otherwise popular all over. Normally beef cuts are used in fajitas but you may also use chicken or pork as an alternative. With Beef not being so cheap, an affordable alternative is beef skirt steak. When the desire to have Beef cuts is strong, ordering beef skirt steak fajitas at a mexican restaurant will satisfy everyone equally. Beef skirt steak may be baked, pan fried or barbecued – it tastes good in all forms.
WHAT YOU'LL NEED
beef skirt steak (1 ½ lbs)
skillet medium or large
onion (1 large size)
garlic (as per taste)
beef or chicken broth (1/2 cup)
green, yellow or red bell peppers (1-2)
any mild chilli (1-2)
black or red pepper (as per taste)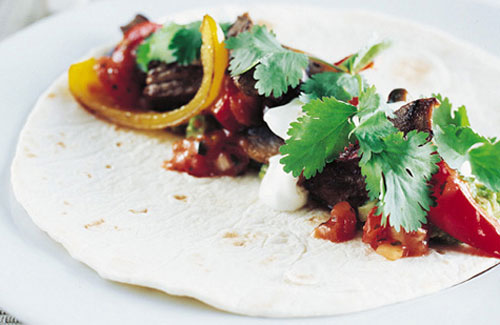 INSTRUCITONS
Prepare a mixture of lime juice and soy sauce for marinating the skirt steak. Marinade the beef skirt steak at least three hours before cooking so that the meat gets tenderized. In case lime juice or soy sauce is not available, any citrus combination with salt or a sauce is good enough.
While the meat is getting marinated, chop the vegetables. In case you are planning to use canned vegetables, make sure that you drain out all water or else it will spoil the flavour.
While chopping the vegetables, cut them into strips so that they give a traditional look to the Fajitas and can be easily rolled in a tortilla.
Place a pan over medium heat. Transfer the marinated meat after draining the marinade into the pan. Add garlic to taste.
To prevent the meat sticking to the pan, keep pouring some broth. Stir fry the meat till you notice the edges getting brown.
Take the strips of chopped vegetables and the leftover broth and add to the meat in the pan.
Keep stirring occasionally till the vegetables become tender. By this time the stock also would have cooked. This process would take roughly 20 minutes. The full dish would be ready in about 30 minutes. Time may vary as per quantity and heating.
The fajitas are ready once all ingredients have mixed and are at uniform temperature.
These may be served hot with refried beans, rice or tortillas along with salsa and topping.
Beef skirt steak fajitas being a delicious table dish can be served on its own too.
Filed Under: Food & Cooking
About the Author: Leona Kesler is a head-chef at a very popular food restaurant in New York. Also she is a blogger who shares her experiences, tips, and other informative details about food and cooking. Her recipes are featured on many magazines.
Comments (0)