By Leona Kesler on Aug 17, 2020 with Comments 0
---
Fresh spinach tastes much better than the frozen or the canned variety available in the market. There are many ways you can make this dish not only is it very healthy it is very easy to cook and less time consuming. One of the quickest and easiest way is to it sauté it in the pan. It can be served as a side dish along with your main course. So the easiest way is to make it in a skillet.
INSTRUCTIONS
The spinach should always be washed thoroughly under running water and make sure that it is absolutely clean because at times there is mud or debris which does cling to the leaves even if you buy spinach which comes packed in a bag because accidentally mud or may have been left while packaging.
Take a pan and coat it liberally with oil preferably olive so that the vegetable doesn't stick to the pan.
Now take the pan and put it on medium heat and add the ingredients only after the oil is warm.
Chop a small sized red onion and put it in the pan and add a dash of salt. Then stir the onion in the pan till it is tender and the look is translucent.
Now put garlic in the pan and continue to sauté. After 40 seconds put the washed spinach in the pan keep stirring the mixture.
Cook the spinach for approximately three to four minutes and remove your pan from heat.
Now put the spinach in a bowl for serving.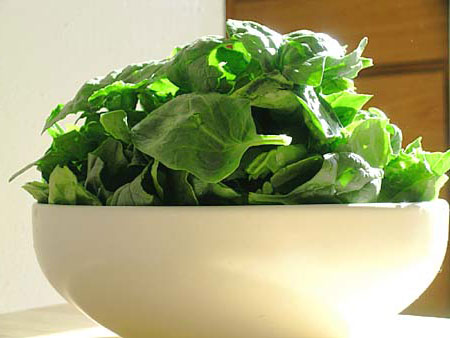 TIPS AND WARNINGS
When buying spinach always keep one thing in mind that the fresh spinach always shrinks after cooking thirty two oz, of spinach would come down to about two cups after cooking.
Always pick up spinach which is tender but suppose it is mature spinach which you have bought the stalks will be hard so you will have to remove them from the leaves before you start cooking.
Leftovers can be used in sandwiches with whatever dressing you are using for your sandwich. They can also be pureed in a blender and after heating it up in a pan; you can pour it in your soup bowl and enjoy a healthy and yum soup.
Filed Under: Food & Cooking
About the Author: Leona Kesler is a head-chef at a very popular food restaurant in New York. Also she is a blogger who shares her experiences, tips, and other informative details about food and cooking. Her recipes are featured on many magazines.
Comments (0)