By Leona Kesler on Jan 19, 2018 with Comments 0
---
BBQ chicken is definitely amongst the more popular chicken recipes out there. Be it the ease of eating, or the fact that it can be eaten for appetizers as well as the main course, people everywhere love BBQ chicken. All of you must be aware that BBQ chicken is generally cooked on the grill but today we will have a look at the method of preparing the chicken in an oven. There are many advantages of using the oven to cook BBQ chicken. You can prepare it at home if you don't possess a grill. You can use less amount of fat as compared to the amount used in a grill. The meat also gets cooked perfectly since there is no single source of heat. The heat spread is even.
WHAT YOU'LL NEED
around 3 lbs pieces of chicken (thighs and drumsticks preferred)
1½ cup of chopped onion
1 tbsp cooking oil
3/4th cup of chili sauce
2 tbsp honey
2 tbsp soy sauce
1 tbsp brown mustard, spicy
½ tsp horseradish
1/4th tsp pepper
preheated oven – around 375 degrees
1 knife
cutting board and bowls for mixing
foil pan
thermometer for measuring meat temperature
brush for basting the BBQ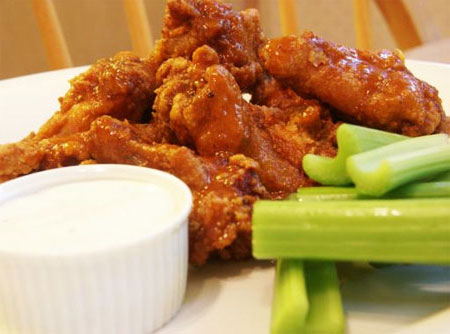 INSTRUCTIONS
Wash the chicken with cold water and pat it dry with a clean cloth or napkin. Lay down all the chicken pieces on the foil, bones facing upward.
Keep it for approx 25 minutes in the oven.
Chop a garlic clove.
Now take a bowl and mix the chili sauce, honey, soy sauce, mustard, horseradish and pepper in the above mentioned quantities. Stir till you can reduce the lumps to the lowest amount possible. Some lumps might remain. You can ignore them for now.
Now take the onion, garlic and a tbsp of oil. Cook till the mixture is tender.
Now, we have to add the mixture prepared in step 4 and heat till it starts boiling. Remove from the burner and split the mix into 2 bowls.
Once the chicken is done for 25 minutes, from step 1, take it out. Turn the pieces over and apply the mix we prepared earlier. Again, put it in the oven for around 25 minutes.
After the time is over, measure the temperature of the chicken. It should have reached around 180 degrees.
It's ready to serve with the garnishing of your choice!
Filed Under: Food & Cooking
About the Author: Leona Kesler is a head-chef at a very popular food restaurant in New York. Also she is a blogger who shares her experiences, tips, and other informative details about food and cooking. Her recipes are featured on many magazines.
Comments (0)