By Leona Kesler on Feb 10, 2018 with Comments 0
---
Baby back ribs are one of the most popular offerings made from pork loins. The best part about baby back ribs is the fact that it can be eaten as an appetizer or even as part of the main course. The meat between the ribs is very lean and is very tasty when done in your favorite sauce. It is not really difficult to cook the baby back ribs, but if you want to cook it in the over, you are at the right place!
WHAT YOU'LL NEED
baby back ribs (pork) – one rack
1 pot – large
water
BBQ sauce
aluminum foil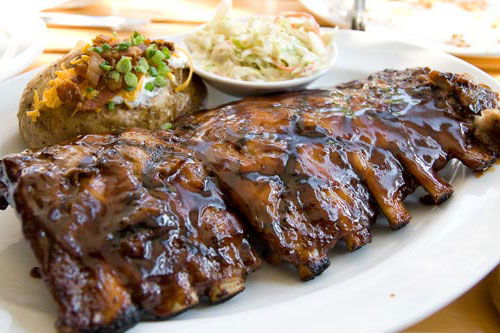 INSTRUCTIONS
Add water to the pot till the pot is full. The water should be either tepid or at room temperature. However, the amount of water should be enough to completely cover the baby back ribs.
Place the pot on the burner and set the flame to full.
The pork meat should be cut in either half or 1/3rd of the size. This actually depends on the pot you have chosen. Like we mentioned earlier, the water should completely cover the baby back ribs and also leave enough room for the pieces to move around.
You should cover the pot and lower the flame a bit. Then you should boil it for an hour.
Now, remove the pot from the burner. Take out the pork and place it on aluminum foil. The foil's shiny side should be facing downwards.
The entire cut should be covered with BBQ sauce of your choice, completely in the back and front. One thing worth mentioning here is that the sauce should be chosen carefully. It is better to sample different types of sauces before going in for a particular one.
After applying the BBQ sauce, you should fold the aluminum foil to make a packet containing the pork inside.
Take the packet and place it in the refrigerator for a minimum of 3 hours. A much better option is leaving it overnight.
Take it out of the refrigerator and preheat it in an oven set at 250 degrees for approx 3 hours. Leave the aluminum packing as it is. It helps to spread the heat evenly and ensures that one part is not overdone as compared to others.
After the abovementioned time period, remove the aluminum foil. Set the oven to broil and boil for approx 10 minutes or till the top is crispy.
Filed Under: Food & Cooking
About the Author: Leona Kesler is a head-chef at a very popular food restaurant in New York. Also she is a blogger who shares her experiences, tips, and other informative details about food and cooking. Her recipes are featured on many magazines.
Comments (0)