By Leona Kesler on Feb 10, 2018 with Comments 0
---
Rib eye steaks are one of the best dishes you can serve for dinner, barbeque party, and others.
Just a trivia, rib eye steak is a meat which is taken out from the cow's rib section. The meat coming from the cow's rib is covered with fat. This makes the meat juicy, flavourful and of course tender.
There are different ways in order to prepare the meat. But usually it is through grilling that makes the meat taste good and juicy. Since the rib eye steak is of such good quality type of meat, experts suggest that marinating or adding too much of herbs and spices should be avoided.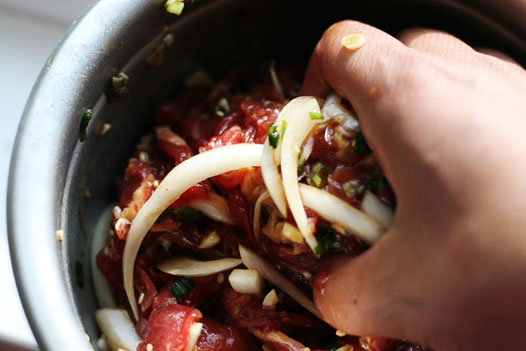 Using a dash of salt and black pepper plus cooking the meat through proper grilling will be the best way to bring in the beef's juiciness and natural flavours.
Cooking rib eye stick is quite easy and it does need you to be an expert to do so.
WHAT YOU'LL NEED
barbeque grill
meat thermometer
Kosher salt
black pepper (fresh)
rib eye steak
grill utensils
INSTRUCTIONS
Prepare the barbeque grill and let the heat turn into medium to high.
Rub the steak with black pepper and salt.
Place the rib eye steak on the barbeque grill right on its hottest part. Sear the meat for about 2 minutes for each side.
After two minutes, move the meat towards the barbeque grills cooler part. Let it sit for about 5-8 minutes before starting to flip the meat again. Of course, the minutes will depend on the thickness as well as your preferred tenderness.
Stick the thermometer to the thickest part of the meat. If you want to eat rare steak – it should be done about 120 degrees, for medium-well let it cook for 145 degrees and then if you want the steak to be well-done at least 160 degrees.
Get the steak out from the barbeque grill after it is done to your desired tenderness. There is no golden rule as to what type of tenderness you should follow in cooking the meat. It is all up to your, what's your choice and preference.
Let the meat sit for a couple of minutes roughly about ten before you start serving it. You can add some side dishes or partnered with mash potatoes or fresh vegetables, peas and the like.
Filed Under: Food & Cooking
About the Author: Leona Kesler is a head-chef at a very popular food restaurant in New York. Also she is a blogger who shares her experiences, tips, and other informative details about food and cooking. Her recipes are featured on many magazines.
Comments (0)