By Jason Prickett on Jul 24, 2010 with Comments 0
---
If you have or are going to install wood flooring and need advice on how to maintain it by doing some hardwood floor restoration, you have come to the right place. Throughout this article, you will learn useful information on how to clean hardwood floors and remove any water marks that may occur over time. Taking time out to clean your floors everyday will give you spotless floors that will retain their beauty for a lifetime. It's easy to forget, but even the finest floor can become damaged over time. A worn floor can be both unsightly and slippery. Professional floor sanding services will not only restore your wooden floors to their former glory, but they'll also improve the overall quality of your home.
The easiest type of floors to clean are solid hardwood floors, but it is the embedded particles of dirt that begin to give the floor a dull appearance. This is the dirt that you track into the house walking from outdoor to indoor. When the dirt transfers from your shoes onto the floor, it becomes embedded into the wood and accumulates over time. The best way to combat this problem is place a mat or rug at every entrance of the house. This will way, you can wipe your shoes onto the rugs, thus leaving the dirt there instead of tracking it through the rest of the house. Even with the placement of mats and rugs, you will still want to take time to tend to your floors on a regular basis. Sweep the floors often and use a dust mop to collect any dirt particles that were left from the broom. Dust mopping can be done on a daily basis, while sweeping can be done when necessary; this will also prevent dirt accumulations. Another good idea is to keep curtains up, as bare windows will allow the sun to shine directly onto the floors, causing fading and discolorations that can be expensive to fix. Also, never drag furniture or other heavy items across the floor. If they must be moved, use soft felt pads under the bottoms of the furniture before dragging, or simply wait for someone to help you lift the items. Finally, the most important thing you can do to preserve your floors is to never allow water to sit on the floor for any period of time. If there is a spill, it should be cleaned up immediately.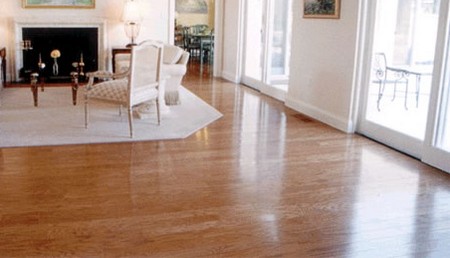 Now, the methods used to clean your floors vary depending on the condition. If your floors have cracks and dents, then you should not use water as it will merely seep into the dents and further damage the wood. However, if your floors are free of these conditions, you may use a soft mop, dampened with water and a mild detergent. If you notice that the floors have been left with a dull finish, you can apply wax to not only give the floors a shine and luster, but to add a protective layer that will aid in the prevention of scratches. Sometimes accidents are unavoidable; if your floors have any small water stains, you can use a soft wet steel wool pad to gently scrub away the stains. Cigarette burns and stains can also be removed by using water and a mild detergent. Polyurethane floors are different from regular hardwood floors, and thus require different methods of care and treatment. To clean a polyurethane floor, remove all furniture and vacuum or sweep the entire area. Use a soft, damp mop with water and mild detergent, followed by a rinse with clean water. Make sure there have been no puddles of water left in any corners of the floor. Some hardwood floors have been left with an oil residue; this can also be cleaned by using a special oil removing cleanser, followed by a clean water rinse with a rag.
Filed Under: Home & Maintenance
About the Author: Jason Prickett loves to write about home maintenance and stuff you can do yourself instead of hiring any professional. His step by step guides will assist you in completing your home maintenance tasks.
Comments (0)