By Jason Prickett on Jul 24, 2010 with Comments 0
---
When it comes to carpet cleaning, many people are more concerned with saving money than getting quality results. Renting portable carpet extractors are a popular way of cleaning carpet as the method is both easy and affordable, but if you prefer having someone else do it for you for some free time consider hiring carpet cleaning services for that extra help. While it is encouraged to clean carpets yourself rather than hiring professionals like J & D Oriental Rug Co to do it, there are few important factors to remember. These carpet cleaning extractors can be rented from your local grocery and hardware store. The only disadvantage to this option is that they are best for cleaning only small areas of carpet rather than entire rooms. Therefore, it is strongly recommended that you rent a carpet extractor from your local janitorial distributor. The Types Of Housekeeping Services they provide may be a bit more costly, but their overall performance is stronger and the suction is more powerful. The company is also likely to offer a wider variety of carpet cleaning products and supplies that you won't find in an average grocery store.
When you decide to rent a carpet extractor from your janitorial services or distributor, make sure the associate thoroughly explains to you exactly how the machine works. This includes how the machine works and the many functions it is capable of performing based on your specific personal needs. Ask about any attachments that are available for the machine. If you will be keeping the carpet extractor for a full 24 hours, ask about cleaning your drapes and furniture as well; since you will be keeping it for that long, you want to get the most out of the experience.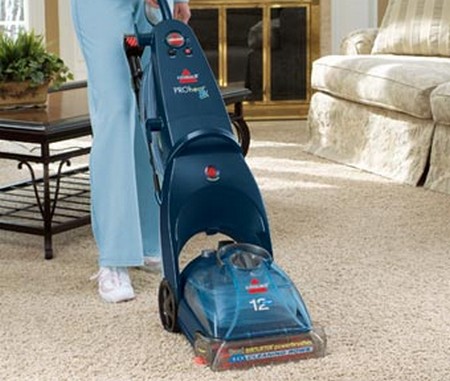 Once you've gathered all the requirements, you can now begin cleaning your carpet. The first step is to remove all furniture from the area and thoroughly vacuum the carpet to get rid of any loose dirt and debris. If you have any tough stains on your carpet, especially in the path of the most traffic, spray an industrial strength cleaner on the stain after you have vacuumed. This is easiest to do if you use a garden pump; simply make sure you have cleaned out the pump prior to using it to eliminate any residue from garden chemicals.
After the stain cleaner has sat and absorbed for a while, you can then mix the carpet extractor solution according to the manufacturer's directions. Follow these directions exactly as stated to achieve the best results. When mixing the cleaner, use only hottest water you can get; hot water will clean your carpet more thoroughly than cold water as the heat removes germs and bacteria. Now you can begin to use the carpet extractor on your carpet. For optimum results, move the carpet extractor in a crosshatch pattern. First, go over the entire area in vertical strips, then do the same area in horizontal strips. Afterwards, you can then rinse the carpet by using cold water. Go over the entire carpet area to remove any leftover cleaner and debris from the carpet. You will know that you have rinsed well enough when the water you see through the extractor begins to turn clear. It is important that you rinse thoroughly, otherwise the detergents used to the clean will dry and become sticky, causing dirt to easily stick to the carpet.
Once you are all done, use a dehumidifier and a carpet fan to speed up the drying process of the carpet. Carpet fans are large and move about to dry the entire area, while dehumidifiers absorb the extra moisture in the air. If the conditions are left too damp and humid, mold can grow beneath the carpet. After the carpet has dried completely, run the vacuum cleaner over it to remove any lint or hair that may have fallen during the cleaning process. When you've finished with the carpet extractor, make sure you clean it out and make sure everything is in working order before returning it.
Filed Under: Home & Maintenance
About the Author: Jason Prickett loves to write about home maintenance and stuff you can do yourself instead of hiring any professional. His step by step guides will assist you in completing your home maintenance tasks.
Comments (0)