By Jason Prickett on Jul 24, 2010 with Comments 0
---
When you embark on a journey as big as building a new home or a major home improvement task, nothing is ever too small to research on before making purchases and drilling holes, and this includes something as small as a stainless steel sink faucet. Some people believe that a faucet is just another part of a sink and that a sink and faucet should be coupled together since that is how they work: together. This is correct. However, each item should be carefully considered and researched independently as well. In the same way you research the exact type of house you want built, the same care and dedication should go into something as simple as a sink faucet and any other home improvement item. One important aspect of good planning is to set a budget before you begin any shopping. Stainless steel sink faucets can range anywhere from $25 to $2,000, so you will want to shop only within your price range. If you're not sure what type fits your home best, check out these steel finishes you cant miss. Remember that every price range offers a wide variety of styles, so you will not feel limited within your budget.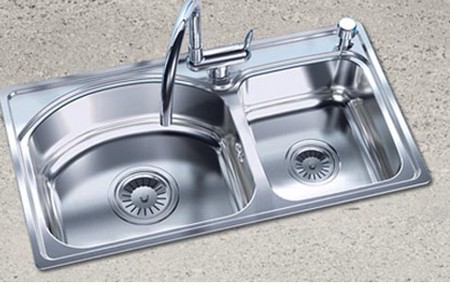 There are endless varieties of sink faucets to choose from. Sink faucets are mainly categorized into 3 groups: center set, widespread and mini-widespread. Center set faucets are the most common sink faucets you will find, and also the least expensive. Most of these are characterized by a single spout with a single handle that controls both the hot and cold water. However, you can find other varieties of the center set faucets that feature a double handle for the water. Widespread faucets feature two spouts, one for hot water and the other for cold. The handles of the widespread variety can be adjusted anywhere from 8 to 20 inches apart from each other, depending on your personal preference. The mini-widespread faucet is similar to the widespread in that the functionality is the same. The only major difference is the spout, which is considerably smaller than the widespread faucet spout. Because the mini-widespread variety is smaller, it is cheaper than the full widespread. Once you have decided which type of faucet you want for your sink, it is time to focus on the material of the faucet. The most common materials used are chrome and brass due to price and their ease of cleaning. While there are countless different materials to choose from, you can also choose different color varieties as well, such as different shades of bronze. A tip to keep in mind is that nickel and stainless steel will give your sink a cool look, while bronzes give a warmer tone.
Another thing to consider when choosing a faucet is the general style of your home. Traditional and contemporary homes are quite different from each other, so it is best to choose a faucet that matches the style. For example, if you live in an old Victorian home, you may not want to choose a center set faucet, as these are more contemporary and would look out of place. A widespread faucet is more traditional and thus would look better for a Victorian home. This same rule of thumb applies to the material and color of the faucet; bronze tones match closer with a traditional home, while silvers and grays match closer to contemporary homes. As you begin your search, take your time to pick out the faucet that truly reflects your personality, which will be mirrored throughout your entire home.
Filed Under: Home & Maintenance
About the Author: Jason Prickett loves to write about home maintenance and stuff you can do yourself instead of hiring any professional. His step by step guides will assist you in completing your home maintenance tasks.
Comments (0)