By Jason Prickett on Mar 08, 2010 with Comments 0
---
The bathroom is usually one of the easiest rooms to keep clean, as well as one of the most important, the cleaning company birmingham will give us a few tips,  wash bath mats once a week as well as towels and flannels. Empty the wastepaper bin regularly. However, when planning an event the bathroom may be the only place for anybody to relieve themselves, that isn't a problem for a small group of people, but when there are large amounts of people walking in and out, it can get a bit messy. The best way to solve that problem, without getting your bathroom dirty is by getting portable bathroom rentals set up outside for your guests.
Baths and basins
Rinse the bath and basin well with fresh water every time you finish using them. At least once a week clean both thoroughly. Clean fibreglass baths and basins regularly with a non-abrasive cleaner so that heavy soiling never builds up. For heavy soiling, soak with a solution of lukewarm water and biolog­ical detergent. Rinse well afterwards.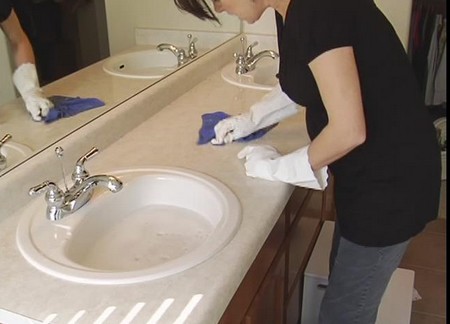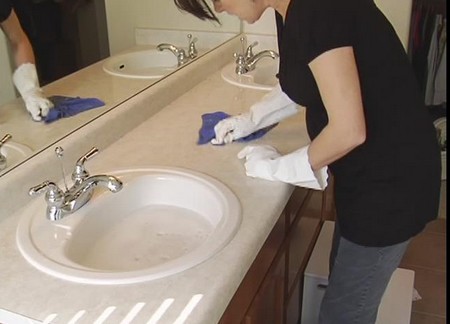 Acrylic baths and basins must also be cleaned with a non-abrasive cleaner, but stubborn stains and scratches can gently be removed with metal polish. Regu­larly remove limescale deposits with diluted lemon juice. Cast-iron baths and basins can be cleaned with mild abrasive liquid cleaners, but use with care as harsh abrasives can ruin the surface forever. Mild under-tap stains may be removed with lemon juice. More stubborn stains will need a pro­prietary cleaner; check with the manu­facturer. Bidets should be cleaned as frequently as baths and basins.
Plug-holes and overflow exits should be cleared and cleaned frequently. Hairs and soap build-up can cause ob­structions. Buy a hair trap for the basin and shower plug-holes.
Scrub discoloured sealants with a non-abrasive cleaner using an old toothbrush. If stains are impossible to shift, re-grout.
Taps and towel rails
Chrome taps and other fittings (grab-rails, towel rails, etc) should be regu­larly wiped over with a damp cloth and some detergent, then rinsed and dried. Proprietary chrome cleaners can be used to restore shine. Make sure the heated towel rail is switched off before wiping it clean with a damp cloth or any other liquid cleaner.
Toilets
Keep the toilet clean at all times. Wipe the outside, seat and handle regularly with disinfectant and once a week clean the inside thoroughly (see box). If the toilet bowl is cracked it will be a breed­ing ground for germs and you may find it safer to buy a new toilet. Wooden seats are more romantic but less hygienic than plastic ones. If your toilet is blocked, get a plumberlisrsoon as po­ssible. Avoid throwing too much paper, etc, down the toilet. Disinfect the toilet brush regularly and keep it out of the reach of small children.
Showers
Clean the rose of the shower head by taking off the shower head and cleaning it from the inside to remove any loose limescale. Use a pin to clear blocked holes then reassemble the rose, making sure it is watertight. In hard-water areas this needs to be done frequently.
Wash shower curtains with soapsuds or a mild detergent, then rinse and dry naturally. Never rub, squeeze or wring them. Remove any mildew with a mild bleach solution. Wash shower doors with detergent or vinegar solution.
Glass, wood and tiles
Mirrors, windows, wooden window sills and tiles should be regularly wiped dry to prevent the build-up of moisture. Scrubbing out stains, dirt, and other spotty messes can make your floors look as good as new. But, if you hate the idea of getting on your knees to scrub tile floors, hiring a professional Tile Grout Cleaning Service is the best way to ensure your floors are clean without having to lift a finger.
Utility-room equipment
Have washing machines and spin and tumble driers serviced regularly and use the washing powder or liquid the manu­facturer recommends, in the correct amount. Clean the filter regularly. If your washing machine is not situated on the ground floor it is worth siting it in a small metal box with an overflow pipe in case it floods.
Never overload machines as you could damage the motor. Unless you have small children, leave machine doors open when machines are not in use to allow air to circulate. Wash soap compartments occasionally and wipe the rubber door seal dry as water can rot the rubber. Remove fluff from tumble drier filters regularly.
If your steam iron needs to be used with distilled water, then do so, or it will need descaling from a professional janitorial service in Santa Clarita, CA. If any materials have burnt onto the base remove with metal polish (if chrome), fine steel wool or abrasive powder (if aluminium) and a soapy sponge or nylon mesh-pad (if non-stick).
Filed Under: Home & Maintenance
About the Author: Jason Prickett loves to write about home maintenance and stuff you can do yourself instead of hiring any professional. His step by step guides will assist you in completing your home maintenance tasks.
Comments (0)