By Jason Prickett on Mar 08, 2010 with Comments 0
---
Manufacturers of modern pieces of furniture often provide care instruc­tions, which should be followed. An­tique furniture should always be pro­fessionally restored and you should carefully identify your surfaces before cleaning them.
Upholstery
Taking precautionary action may pre­vent you getting nervous about your furniture upholstery. Certain fabrics – patterned and those with a thick weave – show dirt and stains less easily than pale, finely woven fabrics. Otherwise protect upholstery by spraying it with a fabric protector or fit loose covers that can easily be machine-washed or taken to the dry-cleaner. Replace loose covers that have been laundered while they are slightly damp; they are easier to get on and will mould into shape better.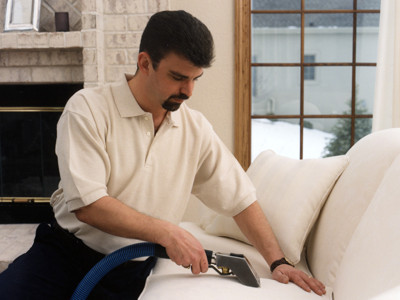 Regularly remove all cushions and beat upholstery to bring the dirt and grit to the surface. Then vacuum with a nozzle attachment. To freshen up up­holstered covers, rub them over with a soft pad of clean white material dipped in pure alcohol – which will clean any grease stains before evaporating – or use a proprietary upholstery cleaner.
If you do spill something on your sofa or armchair, do not panic. Remove the surface deposit first and blot dry with a clean, white cloth and then tackle the stain, making sure you do not overwet the upholstery. Follow any manufacturer's care instructions, check on the properties of the fabric before starting cleaning and test your cleaning product on an unseen corner first. Never use household detergent on upholstery, and do not use methylated spirit on acetate or triacetate, mod-acrylic or rayon upholstery. Always consult professional upholstery cleaners for antique furniture and for cleaning tapestry covers and velvet, or velveteen, upholstery.
Leather
Sponge leather upholstery clean with a soft cloth wrung out in pure soap-flake solution (and do not rinse afterwards) or use a damp cloth rubbed over a bar of glycerine soap. Occasionally feed leather with a special hide cleaner. Never overwet leather upholstery or use detergent, dry-cleaning fluid, petrol or ammonia on it. If leather pieces are valuable or non-washable, do not at­tempt to clean them yourself, but con­sult a professional upholstery cleaner.
Bamboo, basketware and cane
Regularly dust or vacuum bamboo, basketware and cane furniture. Bamboo should be scrubbed gently with warm soapy water plus a little borax, then rinsed with cold salt water and left to dry. Never use detergent on bamboo. If basketware and cane furniture is var­nished, wipe it with mild soapsuds to which you have added a little ammonia. If unvarnished, scrub lightly with warm, salt water. Always rinse well with cold water to restore the stiffness, then wipe off excess moisture and leave the piece to dry naturally.
Glass, mirror and metal
Glass tabletops and mirrors can be cleaned by rubbing with vinegar or alcohol and then drying with a paper towel and buffing with newspaper. Using a cotton cloth leaves a 'lint' on glass, so always use paper or a linen cloth for drying.
Metal furniture should be cleaned with dishwashing liquid solution or the appropriate metal polish. Rub rust stains with turpentine to remove them.
Plastic
Plastic surfaces, such as acrylic, perspex and polyurethane, should never be cleaned with abrasives, chemicals, acids, petroleum, bleach or disinfectant, dry-cleaners or acetone, as these could scratch, or otherwise damage, the sur­face. Do not dust them with a dry cloth either as it will make them even more static. Instead, wash with a warm (not hot), mild liquid detergent solution or buy some special anti-static polish or other proprietary cleaner.
Wood
Wooden furniture needs special atten­tion depending on the finish and on the age of the piece. All wood furniture needs to be carefully dusted, but, unless they are antique, regularly used pieces, such as dining room tables, may need polishing every week or so. Other pieces of furniture may well only need to be polished every six months or so. Make sure you are using the correct polish: old-fashioned beeswax is best for an­tique furniture. Never use too much water on wood and never use oiled or treated dusters on waxed furniture. If there is a build-up of old polish, this can be removed with a proprietary cleaner.
Use a proprietary stain remover to get rid of coffee cup or glass stains.
Curtain care
Curtains should be washed or dry-cleaned according to the fabric they are made of and whether or not they are lined and interlined. Some curtains can be gently washed in the machine, but always hand-wash or dry-clean delicate fabrics and follow any manufacturer's care instructions. Remove hooks, cur­tain weights, etc from curtains before washing and test fabrics discreetly before plunging them in the bath. Never soak rayon curtains or iron plas­tic shower curtains. Large, heavy cur­tains are impractical to clean at home, and are best left to professionals.
Although they look attractive, cur­tains that bunch on the floor get dirtier more quickly than those that hang clear.
Filed Under: Home & Maintenance
About the Author: Jason Prickett loves to write about home maintenance and stuff you can do yourself instead of hiring any professional. His step by step guides will assist you in completing your home maintenance tasks.
Comments (0)