By Arthur Kunkle on Jan 17, 2010 with Comments 0
---
Hanging baskets are only really suitable for summer displays in most regions. Holding only a small volume of growing compost, they're too small for most perennial plants, and they freeze solid and dry out fast in cold winter weather, which does not suit winter and spring flowering bulbs. In mild, fairly frost-free regions, of course, they can provide colour from annuals and tender plants almost the whole year round; but for most of us they are unfortunately a summer phenomenon.
Many of the annuals and tender plants mentioned under temporary plants for summer colour in window boxes are of course suitable for hanging baskets. Very tall plants are obviously not ideal, and the major part of the planting scheme will involve trailing plants.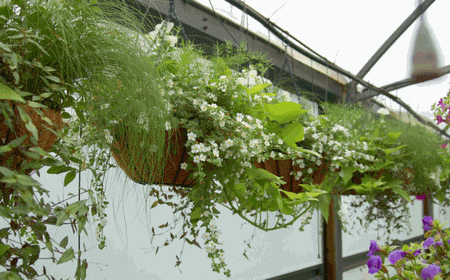 However, the same rules apply about obtaining a balanced mix of types, and at least one tallish plant should ideally be included, in the centre of the basket, to add height to the display, with trailers planted around it. In a wire basket with open sides, trailers may also be planted to grow out between the wires.
Pelargoniums and fuchsias are perfect as central 'height' plants in a basket. Hanging baskets tend to be more exposed to wind and rain than window boxes, so any tall plants need to be sturdy; these two suggestions are ideal, whereas tall annuals tend to flop over.
Of trailing plants, the following are all excellent. For foliage: small-leaved ivy varieties, the silvery-leaved Helichrysum petiolatum and Senecio maritimus, Saxifraga stolonifera (mother of thousands) and the stripyleaved Zebrina pendula (wandering Jew). Flowering plants include trailing begonias (Begonia Xtuberhybrida 'Pendula' varieties), trailing fuchsias (e.g. 'Cascade', 'Swingtime' and 'Marinka'), the ivy-leaved Pelargonium peltatum varieties, Lobelia erinus 'Pendula' varieties (e.g. 'Blue Cascade' and 'Red Cascade'), petunias (e.g. the pink 'Blush Cascade' and the red 'Ruby Cascade'), Lysimachia nummularia (creeping Jenny), impatiens (busy Lizzie) and Tropaeolum majus (nasturtium). For hanging baskets in shade, the following are the best choices: Lysimachia nummularia (and its golden-leaved form 'Aurea'), the ivies, Saxifraga stolonifera, Zebrina pendula, lobelias, nasturtiums, trailing fuchsias and begonias.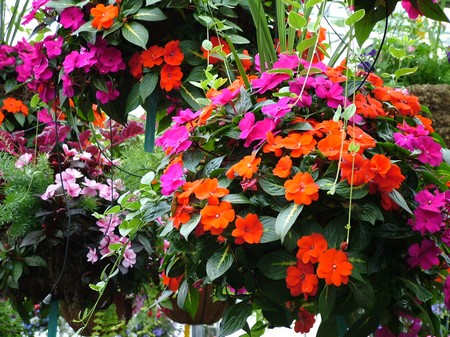 Finally, if hanging baskets seem like too much trouble, how about fixing wall-mounted pot holders? These are almost as attractive, spilling over with colourful trailing plants. If possible, try to get ones that will hold a largish pot with more than one plant; say a trailer plus a bushy plant; and small wall-mounted 'planters' (small plastic troughs or semicircular containers) fixed with brackets, one each side of the window, provide yet another interesting alternative.
Filed Under: Uncategorized
About the Author: Greenery always attracts Arthur Kunkle. He has a big garden where he plants many fruits and vegetables. His passion for gardening motivates him to write and share different tips on gardening.
Comments (0)