By Jason Prickett on Jan 17, 2010 with Comments 0
---
While many people may be indecisive about how to decorate their home, when it comes to the kitchen everyone has their own strong image of the look they want.
Some favour a very high-tech, clinical style, with streamlined units in stainless steel and cabinets with frosted-glass doors. This type of kitchen is likely to verge on the minimalist, as any clutter would detract from its carefully thought-out clean lines. Other people prefer a much more cluttered, homely look. This sort of kitchen is unlikely to be fully fitted, with a large dresser taking the place of standard units.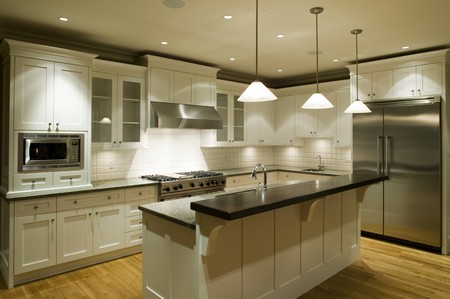 Whatever your taste there are certain practical factors which cannot be ignored. The principle ones are lighting, flooring and work surfaces.
Lighting must be arranged so that work areas are fully illuminated and the floor should be made of a material which is waterproof, comfortable to stand on for long periods and non-slip.
Work surfaces can be made from natural materials, such as wood, slate or stone, or man-made materials, such as metal, ceramic tiles or plastic laminates. The criteria are that they must be hard-wearing, able to cope with water and heat, and can be easily cleaned.
Wooden work surfaces are very attractive and conjure up comforting images of country kitchens. All kitchen suppliers sell wooden work surfaces and storage units, although for a more individual look it is possible to buy reclaimed timber that can be tailor-made to your requirements. When deciding on a type of wood, bear in mind that the closer-grained varieties, such as beech or maple, are tougher than the softer, more open-grained woods, such as pine. Wood must be thoroughly oiled or varnished to withstand the constant exposure to water. Wood will also mark if a very hot pan is placed on it, so it is vital to have protective mats or trivets.
Other natural materials, such as granite, marble flooring and slate, also look stunning in a kitchen, and can be designed to appear as traditional or cutting edge as you wish. They require protection against water or heat stains, and should also be guarded against grease, but they will last a lifetime. These materials are also very heavy, a factor which should be taken into account, particularly if the kitchen is not on a ground floor. When your marble floor's appearance starts to diminish, you may have it restored through a marble polishing service.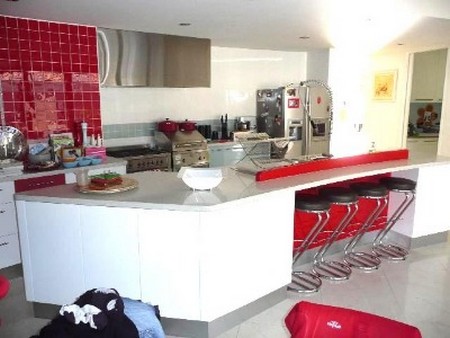 Among man-made materials, laminates are probably the most popular in the kitchen. They are cheap and practical, very easy to clean, totally waterproof, and almost completely heat resistant. They are available in many designs, from imitation marble and granite to plain colours, so it is easy to find one to match your planned design.
Stainless steel – the choice of professional cooks -is also immensely practical, being very hygienic, and impervious to water, heat or grease. It's only drawback is that it is expensive, will scratch and may appear a little too high-tech for many people's tastes.
Ceramic tiles come in an enormous range of sizes and styles. They are very hard-wearing, although make sure you select heat-resistant tiles for work surfaces. It is also important to choose heat and water-resistant tiles for work surfaces. It is also important to choose non-porous, heavy-duty grouting, otherwise it will soon become discoloured and unhygienic.
Filed Under: Home & Maintenance
About the Author: Jason Prickett loves to write about home maintenance and stuff you can do yourself instead of hiring any professional. His step by step guides will assist you in completing your home maintenance tasks.
Comments (0)