By Vincent Carreno on Jul 24, 2010 with Comments 0
---
Have you been thinking about improving the look of your SUV, pickup truck or commercial truck? If so, you will be pleased to learn that there are a number of tools you can use that are readily available from the market. The nerf bar is an accessory that has been rapidly growing in popularity because of the all the amazing improvements it can add to your vehicle. Even though having a great looking truck is something everybody wishes for, it is still important to have it secured with some sort of commercial semi-truck insurance. Once you find a policy that works for your truck, you can then consider adding accessories.
So what exactly is a nerf bar? A nerf bar is basically a fancy term for the metal side steps that are installed on the side of your truck or SUV to make it easier for you to enter your vehicle. They also enhance the appearance of your truck. Other than nerf bars, they are also referred to as sport bars, sport tube, tube steps, and step bars.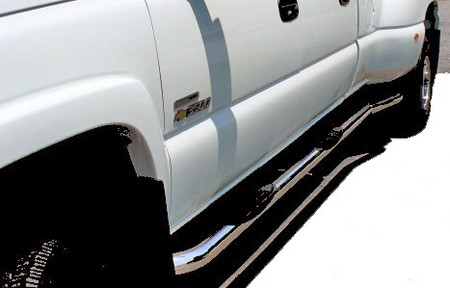 Nerf bars are made from strong materials to be able to handle frequent stepping. They are available in a large spectrum, including polished stainless steel, chrome, aluminum and black powder coating, and they even come in different lengths and sizes, such as wheel to wheel, cab length, oval and even retractable. You can find a nerf bar to fit just about any individual need you have.
There are also other functions that a nerf bar can provide. They assist you in climbing into the bed of your truck, which can actually be quite difficult without a nerf bar. It can also serve as a 3rd step when needing to reach up to the utility rack on top of the vehicle. It is also helpful when washing your truck or SUV, as you can easily access places that were once hard to reach. Nerf bars are excellent for assisting small children or elderly passengers of the vehicle. As an added bonus, nerf bars are made with weather resistant rubber pads and provide a safe and secure stepping surface.
While nerf bars are a great option to enhance the physical appearance of your truck, you must consider the clearance issue. If you vehicle is lifted, then this will not be an issue for you. However, if your vehicle is lower to the ground, you will have to go with a nerf bar with a smaller thickness as to not interfere with the ground. Keep in mind that only the full sized trucks can accommodate a 4 inch nerf bar.
Nerf bars are fairly simple to install. They are available according to the specific make, model and year of your truck or SUV, so installation is a hassle free breeze. The total time of installation takes less than one hour and all that is needed is a screwdriver and a set of hatchets. The nerf bar is screwed in using the existing holes on your vehicle. If you are installing a retractable nerf bar, more assembly, such as drilling, may be required.
Before you purchase a nerf bar, decide what its primary function will be. If you are looking only to enhance the physical appearance of your vehicle, then you should opt for the sport tube. However, if you will be using them to aid in stepping, you should consider running boards that have wide tubing.
Just remember: when accessorizing your vehicle, choose the nerf bar that best suits your needs and budget.
Filed Under: Cars & Vehicles
About the Author: Vincent Carreno is a cars enthusiast who loves all things about cars and the automotive technology. He is also the chief editor at a local magazine which shares new, exciting and informative articles about troubleshooting car problems.
Comments (0)