By Cody Riffel on Feb 09, 2018 with Comments 0
---
Wrestling is a very popular sport. There is a practical and safe way to hone your wrestling skills without having to go to a gym every day. By building your own wresting ring in your back yard, you give yourself the convenience to perfect your moves. You'll have the moves of your favorite wrestler down in no time. Here is how you can build a wrestling ring quick and easily. Continue reading to find out how.
Instructions
Things You'll Need:
Corner Posts (4)
Cement ( or Dirt)
Ropes ( or Bungee Cord)
Post hole digger
Tape Measure
Prepare the Base
Step 1
Decide where you will build your wrestling ring.
Step 2
Determine on how big your wrestling ring will be. This will be contingent upon the space available. Measure the area with a tape measure.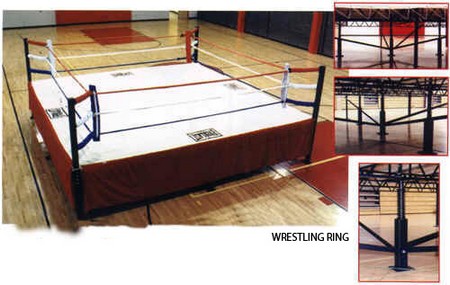 Step 3
Cut the foam 2 inches thing. You can glue thinner sheets of foam together until the measure 2 inches.
Step 4
Make the foam waterproof. Use a sewing machine to piece the tarps together. The entire area of the foam needs to be covered completely with the tarp. Sew the edges of the tarp close to protect against the elements.
Step 5
Make the base of your wrestling ring out of Plywood. It should measure the same size as the sheet of foam. Attach the foam to the Plywood with glue.
Frame and Finish Your Ring
Step 1
Use the post hole digger to make a hole at every corner. It should be a minimum of 1 foot deep. This is to stabilize the posts.
Step 2
Put the posts in a hole. Fill the empty space with cement or dirt.
Step 3
Cover the corner post with foam. Cover in the same thorough way you covered the foam mat. You can secure the foam with glue or use elastic supports.
Step 4
Put the hooks in to the corner posts. Ensure that the measurement is correct for each post so the posts will be positioned the same at even heights. These posts will hold the ropes or bungee cords that surround the perimeter of the wrestling ring. The number of hooks used will be contingent upon how many ropes your wrestling ring will have. There are normally 3 to 5 ropes on a wrestling ring.
Step 5
Thread the bungee cord or the ropes for the ring through the hooks. You can even wrap the ropes or the bungee cord over the corner post for added support.
Tips
Be safe even when you are wrestling. For added protection, you can install an amazing sprung flooring so the wrestlers are safe if they fall on the floor. Wear protected gear whenever warranted. Enjoy your wrestling ring.
Filed Under: General How To's
About the Author: Cody Riffel is a regular contributor to MegaHowTo. She likes to write on variety of topics, whatever interests her. She also likes to share what she learns over the Internet and her day-to-day life.
Comments (0)