By Jason Prickett on Sep 12, 2009 with Comments 0
---
These days, space has become a premium commodity. Once, you store room is full, you start using your garage as a dumping ground. However, the big question is, 'For how long will you continue use these areas as a storage spaces?' A storage shed will be a good option for you. If your biggest concern is how to build a shed, then take a look at the following 3 simple steps on how to build a shed with ease.
A shed not only provides you an extra storage space, but it can also serve as an extra room, clubhouse or home annex. Moreover, all those important spaces like garage, store room, guest room and so forth become free, and thereby, they can be used for purposes they are actually meant for. Yet another benefit of a shed is that it helps you to keep all the things in an organized manner.
All your tools, equipments and other tidbits will be at one place. You wouldn't be wasting your precious time searching for them in the hour of need. One more benefit of a well-built, sturdy shed is that it perks up not just the looks, but also the value of your home.
Now, that we know about some of the important benefits of a shed, it's time to learn how to build it in 3 simple steps, so let's start off.
Procedure:
Collect all the requisite materials and tools – Before setting out to collect materials, it is essential to choose a plan. There are a lot of plans available on the internet and in different home improvement stores. Select any one of them depending upon your budget, personal choice and the amount of space you have.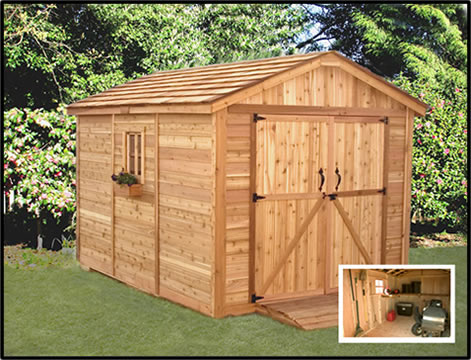 On the basis of your plan, start collecting the materials and tools. You would require a lot of lumber especially for beams, skids, rafters, frame, and joists. Pressure-treated wood is a good choice for floors and bottom part of the walls because it is resistant to insect invasion and decay. Besides lumber, you would also require large quantities of hinges, nails, and other similar kinds of hardware.
For the roof of the shed, you would need roof underlay, sheathing and cladding material and some metal pieces. The floor of the shed can be built on gravel or concrete foundation or it can be perched on wooden posts. At times, the shed is built directly on the wooden skid; such sheds are movable.
The tools that would be required are hammer, saw, screw driver, measuring tape, and framing square. Normally, every plan has an all-inclusive checklist of the materials that will be needed to build the shed; take the help of the list to collect materials.
Start building the shed – Start with the floor first; it will rest on two long pieces of wood called skids. On the skids are placed joists that hold the floor frame together. The joists are nailed to the bands of the frame, and after that the plywood nailed to the floor. Once the floor is ready, prepare the wall frame and erect it upon the floor. Ensure that the walls are perfectly upright. Nail the floor and wall frame together.
In the next step of how to build a shed,
Assemble the roof over the frame. A single beam is placed on the four supports that sit on the middle of the front and rear end of the wall frame. The roof frame is covered by a sheathing material over which a durable cladding material made up of asbestos, asphalt or corrugated iron is placed. Finally metal sheets are placed for drip edges. In the end, the doors and windows are installed in the space provided.
It's quite simple to build a shed, right?
Filed Under: Home & Maintenance
About the Author: Jason Prickett loves to write about home maintenance and stuff you can do yourself instead of hiring any professional. His step by step guides will assist you in completing your home maintenance tasks.
Comments (0)