By Jason Prickett on Aug 24, 2010 with Comments 0
---
Screen doors are a great way to allow the breeze into your home while keeping critters and insects outside. Putting a screen door on the house is lovely when the weather is hot and you want to air out the house You can ask to composite door Bristol to build a screen door with lap joints and a few tools. Here is how you can build your own screen door. Read on.
Procedure:
Difficulty: Moderate
Instructions
Things You'll Need:
Tape measure
Circular saw
Several C clamps
Sharp utility knife
3/4-inch chisel
Square
Polyurethane glue
Glue brush (Disposable)
5/4 lumber (1 1/4 inch frame)
1/4 x 3/4 screen molding
Drill
Staples
Staple gun
Spade bits
1×1 lumber (cleats)
1-inch brads or nails
Aluminum screening
Screen door hardware
Paint or varnish
Step 1
Purchase lumber for the door and rails. Cut the vertical pieces out to the correct length and the rails the correct width of the door. Lay them out.
Step 2
Place boards into the jig. The jigs will assist you on this step. Cut the half-lap joints. Set the cutting depth to either 9/16  inch or half the thickness of the board.  Clean the joint with a chisel. Repeat for all boards.
Step 3
Before you secure the door, test the pieces. Make sure the fit is good. Assemble the parts of the screen door. If the fit is ok, polyurethane glue the joints together with a disposable glue brush. Clamp the pieces together using C clamps. The joints should be square. Measure the diagonals of the door . They should be equal.
Step 4
Put cleats on the screen. Staple the screen to the door.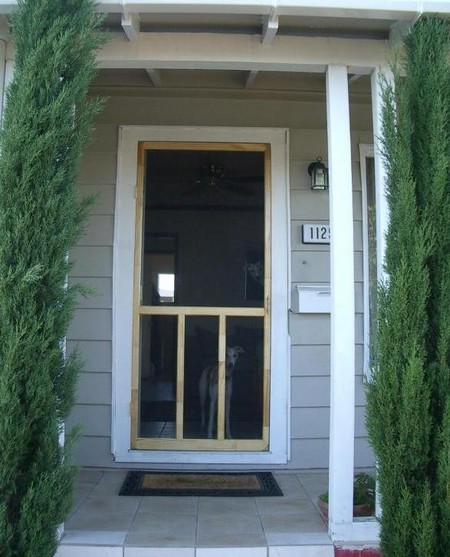 Step 5
Paint or varnish the wood.
Step 6
Install the screen door. Place the screen door on blocks and roll the screening across the entire door. Staple the screening over the top and bottom. Finish stapling the screening to the internal and vertical pieces. Remove extra screening with a utility knife.
Step 7
Install the screen door hardware. There are several options you have when trying to install hardware for your screen doors. The easiest option is a face mounted spring hinge that has a handle screwed into both sides of the screen door. Set the screen door inside the opening of the door. The hinges should be attached to the trim of the door on the inside. Then, secure a metal handle. Screw it into the wood on the screen door. Install a lock if you desire. Screw the lock into the screen door and door trim.
Filed Under: Home & Maintenance
About the Author: Jason Prickett loves to write about home maintenance and stuff you can do yourself instead of hiring any professional. His step by step guides will assist you in completing your home maintenance tasks.
Comments (0)