By Bruno Silva on Aug 24, 2010 with Comments 0
---
There is boundless beauty to me observed when you live on a waterfront property. Erosion is always an issue with any waterfront property. Every owner has worries. Storms and wave action can increase the risks and effects of erosion. This makes it mandatory to rebuild a seawall quicker than someone may anticipate. Most properties on the waterfront come with seawalls, the responsibility of the maintenance and repair is the property owner's. Also, if the seawall needed to be replaced, that cost is also the owner's alone. You can build  a seawall from concrete or wood. Plastic is used but they aren't as popular as other materials. Here is how you can build a seawall. Continue reading.
Procedure:
Step 1
Decide where your seawall will be built. Survey the complete area. Measure the length of the area. Pay attention to where the water reaches when the tide is at its highest.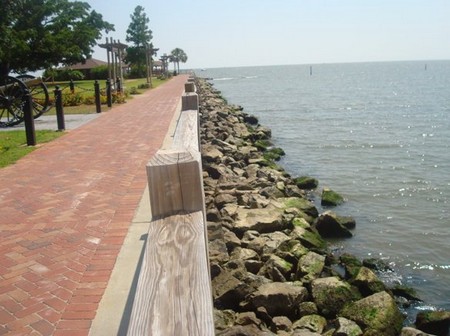 To make these observations, may require a month or so. This is because high tide occurs according to the phases of the moon.
Step 2
Calculate how many posts you will need. The length of your seawall will determine the number of posts that are positioned in the ground at the perimeter of the water. You should at least plan on installing a post about every 8 feet.
Step 3
Dig your post holes.  The easy of this step will depend  on the soil. Dig the post holes with a post hole digger or either a jack hammer if it is available. The depth of your post holes depends on how tall your seawall will be. You can generally plan on a minimum of two feet of posts in the hole. A 6 foot seawall would require that 3 feet of post is installed into the ground.
Step 4
Now, use concrete to set your posts. Mix the concrete according to the manufacturer directions. Allow the proper time for the cement to set before proceeding.
Step 5
Next, cut the wood to fit in between you set posts. More than one piece of wood may be used between two posts. In this case, you would stack the wood vertically. Do not position them end to end.
Step 6
Secure the boards to the posts with bolts. Drill small holes in the posts
Bolt the boards to the posts.
Drill small holes in the posts. These are your pilot holes. Use your pilot holes to bolt the boards to the posts at each end. This step may require you to ask for assistance.
Fill in the spaces between all the boards. Land with substrate where ever needed. Use crushed concrete or gravel or soil to build the land out to the new seawall.
Filed Under: General How To's
About the Author: Bruno Silva is an entrepreneur from Portugal with over 15 years of experience in Online Marketing. He is also a blogger and writes on variety of topics from online marketing to designs, cars to loans, etc.
Comments (0)