By Jason Prickett on Aug 24, 2010 with Comments 0
---
A retaining wall is a structure that is erected to keep out land and water. A retaining wall can be  constructed from many materials such as wood, stone, brick or ever railroad ties. They are built from many materials, including brick, stone, railroad ties and wood. There are various uses for a retaining wall. They can be used to level a small hill or slope. Or, they can be used to build and elevated flower bed.  A wooden retaining wall matches various landscapes and can increase the beauty of a property. If you need help from a professional, Solid Retaining Walls of San Diego is a great choice for building your retaining wall. Constructing a wooden retaining wall requires planning and excavation of the area where you want the retaining wall to be built, so if you're not up for the task, ask a retaining wall contractor to arrange it for you. It's a moderately challenging endeavor. Here is how you can build a retaining wall. Continue reading on.
Procedure:
Difficulty: Moderate
Instructions
Things You'll Need:
Metal rods or rebar
Sledge hammer
Shovel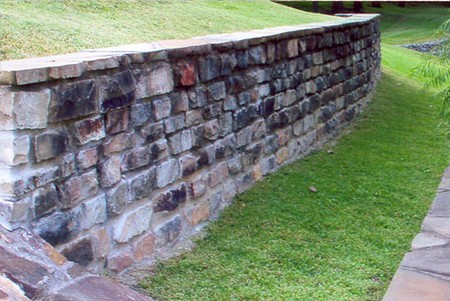 Drill
Wood dowels
4×4 lumber
Grinder
Step 1
Buy 4 x 4 lumber beams.
Step 2
Excavate the area where you decide the retaining wall will be constructed. Whether the side of a small hill or a slot, the area needs to be as flat as possible before building this wall. The ground where  the retaining wall will be erected needs to also be level.
Step 3
Use a sledge hammer to insert and tamp eight 10 inch metal robs or rebar into the ground. These rods are an anchor. It helps to hold the retaining wall in place. Insert a rod into the ground every four to six feet. This also depends on the length of the wood beams.
Step 4
Puncture a hole in every 4 x 4 beam to slide over the rebar. Use a drill for this step. Mark every beam with drill holes. Draw them on with a pencil on the area that needs to be drilled. The dowels that will be holding each bean together needs to have extra holes.
Step 5
Position each beam properly so that the medal rods go through the drilled holes. The dowels should be placed in the bottom beam before the next beam is put on top.
Step 6
Last, cut and smooth out any metal rods that the beams do not conceal with a grinder. Fill in the area behind your new retaining wall with the same dirt excavated earlier.
Step 7
You have now completed your project. Your retaining wall is your responsibility to maintain and upgrade. Check the condition of your retaining wall at least twice a year. Note any repairs or replacements you may discover. Enjoy your new enhanced out door scenery.
Filed Under: Home & Maintenance
About the Author: Jason Prickett loves to write about home maintenance and stuff you can do yourself instead of hiring any professional. His step by step guides will assist you in completing your home maintenance tasks.
Comments (0)