By Ralph Crutcher on Aug 24, 2010 with Comments 0
---
Learn how to build a halfpipe with a 10 foot high platform, 5 foot radius and a 5 foot vertical. Start by making a full sized template so your supports are the same size. Use ¼ inch plywood for this.
Secure the pieces together with duct ¾ inche of ply scab plates. Use ¾ inch wood screws.
Tear two sheets of ply in vertically into 23 and ¾ inches.
Cut two feet off of one of the rips. Scab it to the other piece. This makes a 2ft by 10ft rectangle.
Now scab a 5 foot square and hook together to form a boot shape.
Drive a nail in the top corner of the 5 by 5 square that is not connected to the rectangle.
Mark the radius from the top corner using a nail (where the 5×5 meets the rectangle) to the bottom corner directly below the nail.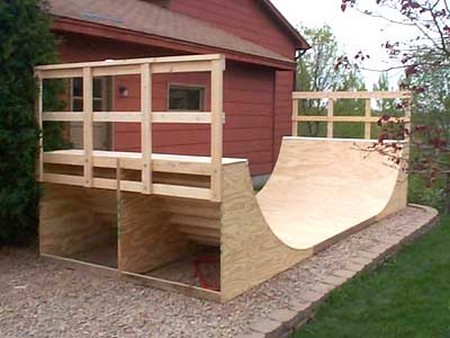 Cut this radius out using a jig saw
Use your template to make two end panels per quarter pipe.
To do this, use two layers of 3/4 inch plywood laminated together. Pour wood glue into a paint tray. Use a roller to roll a thin, even layers of glue over the entire surface of the bottom layer of ply. Rotate the grain 90 degrees and place the top layer on. Align all edges and screw the layers together with 1 ¼ inch coarse thread wood screw. Allow glut to set overnight. Cut out end panels with a circular saw.
Use your template to make intermediate supports.
The supports are comprised of single layer ¾ inch ply. Scab them together two inches from the edge with two by material.
Cut several 2x4s into 3ft 9in lengths.
Use a stop block setup to check that your boards are the same length.
Line the flat edge of the 2x4s up with the edge of the end panels (where the riding surface will be) and screw or nail them to end panels a few inches apart.
Nail the other end to the intermediate panel. Space the same. Stagger the 2x4s between intermediate panels. Use as many intermediate panels as needed to achieve the length designed. Taper the 2×4 on the bottom fit the ground.
Frame under the platform to support not only your weight, but also hard landings.
Anchor your frame into the ground. You may use a building, or support beams poured with footings. You may need to consult a professional.
Install the riding surface.
Run two 3/8 inch cdx plywood in the same direction. Break the seams by running a full course across the length. Lay a 2 foot rip with the grain on the top. stagger the end joints and screw it to the 2x4s.
Filed Under: Home & Maintenance
About the Author: By profession, Ralph Crutcher is a swimmer but enjoys playing football, Golf, and regularly goes to the gym to keep himself fit and healthy. This is one of the reasons; he likes to write about sports and fitness.
Comments (0)