By Justin Belden on Aug 24, 2010 with Comments 0
---
Building a robot is an exciting idea. Often times people think in order to build a robot you have to the most tech savvy person. You don't need advanced knowledge in electronics to make your own robot. A robot can be constructed from scratch with some commonly found items and some reasonably priced items as well. You can make building your own robot a reality in less than an hour. Here is how you can build a robot from scratch.
Procedure:
Difficulty: Moderate
Instructions
Things You'll Need:
Wheel base
Nickel-cadmium battery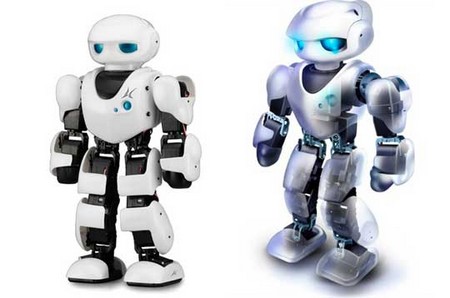 Receiver/controller combo (four or six degrees of movement)
2 Velcro pieces
Professional-strength glue
2 Servos
Dual-lock tape
Step 1
Look around your house for items you can use to build your robot. For example, any radio controlled cars you may have will be helpful in building your robot. You can salvage essential parts from toys or you can purchase parts online or locally. You will need a wheel base. Strip the radio controlled and keep the wheel base.
Step 2
Use two strips of Velcro to your wheel base with professional strength glue. Connect two pieces of Velcro to your wheel base. One should be on the top of the wheel base, the other should be on the bottom.
Step 3
Salvage or purchase a receiver and controller combination. The two components must be compatible and support the same range of movement. For example, make sure these two items support a four way (up-down, left-right) movement for your custom robot.
Step 4
First, connect the receiver to the top of your wheel base with the second strip of Velcro. Secure a nickel cadmium battery to the bottom of your wheel base. Nickel cadmium batteries are more efficient than other kinds for this project.
Step 5
Use dual lock tape to attach the servos to the wheel base. Place the servos on opposite sides of the base. Each should be fastened closely to the wheels.
6. Step 6
Wire the parts together. Everything should run through the receiver. The receiver's channels will be the source for the battery and servos. Connect the battery to the channel marked "Batt". The two servos should be positioned on channels away from where the battery is wired. The two servos should be connected to adjacent channels, but NOT the same channel.
Step 7
Test your robot. Switch the controller on. Run the individual movements. Make sure your Robot   is fully functional. You may opt to make your robot into a warrior by placing a sword into the batting ram of your new robot. Enjoy your new creation.
Filed Under: Computers & Technology
About the Author: Justin Belden is a freelance web & graphic designer with over 15 years' experience. He is also an Avid member of the Design/Development community and a Serial Blogger who loves to help people by sharing interesting and informative tips and trick related to computer and technology.
Comments (0)