By Vincent Carreno on Aug 24, 2010 with Comments 0
---
A motorcycle jig can be the biggest help when you're attempting to build a motorcycle frame. This jig holds all the necessary parts for the frame of your motorcycle. It can make building the motorcycle of your dreams a very easy process. A jig can take some of the complexity out of building a vehicle from scratch. As with any project, safety is first. Take every safety precaution available to you when building your motorcycle jig. Also,when creating a motorcycle jig, it is important to the process to also make a welding fixture. Jigs do not hold the parts of the frame for tack welding. Here is how you can successfully build your very own motorcycle jig. Read on.
Procedure:
Functions
Making a motorcycle jig is a huge help when building a motorcycle. It helps you locate the space where the neck should be properly installed. Also, it is especially useful when you need to assess rake height and rake angle. In addition to these things a motorcycle jig allows you to locate the bottom rails and height of the rear axle on your motorcycle.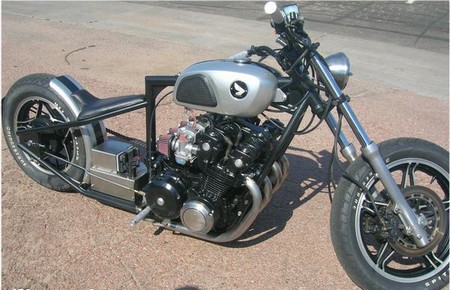 Instructions
The neck post jig has to be built first. To build this jig, begin with 1/8 inch wall steel tubing. The tubing needs to measure 2 inches by 3 inches. You also need a ¾ inch pivot rod to complete the frame's neck. The neck jig assists you in adjusting the neck's height. Use a motorcycle jig design that comes with instruction and specs so you can complete your task with relative ease.
Move forward with the project by making the axle post. The axle post is commonly made from ¼ inch steel tubing This steel tubing will be the structure that holds the axle plates. Ensure that your axle plates are positioned correctly. You should use shaft collars and pacers between the plates. After positioning the plates, weld a ½ inch steel plate into a ½ inch square tube. Drill holes and insert bolts into the holes to have space between the plates.
When you have completed the axle post, you can start on the engine fixture. Begin by putting the two lower rails together. Use a bolt to fasten the rails securely. Use four setscrew jacks to secure the fixture and the engine plate. Attach your jacks at the corners of the plate. Drill holes for setscrews to secure the parts of the motorcycle screws. These are used to secure the engine plate and the rails to the motorcycle. After the engine fixture is all done, make sure that all of the parts are functioning properly. If you have any issues with your jig, ask for assistance
Further Readings:
Filed Under: Cars & Vehicles
About the Author: Vincent Carreno is a cars enthusiast who loves all things about cars and the automotive technology. He is also the chief editor at a local magazine which shares new, exciting and informative articles about troubleshooting car problems.
Comments (0)