By Bruno Silva on Aug 24, 2010 with Comments 0
---
A paintball gun is used in the sport of Paintball. It is often referred to as a paintball marker. They work by utilizing expanding compressed gas to push the paintballs through the barrel. Paintball is a favorite with family and friends alike. Here is how you can build your own paintball gun at home. Read on.
Procedure:
Required Materials
tire replacement valve
1″ PVC end cap
¾" PVC nipple
¾" PVC ball valve
¾" PVC reducer
two 1″ PVC tees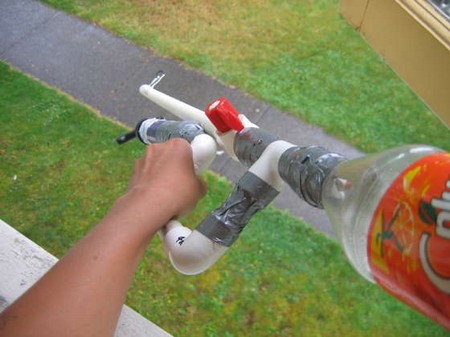 Mark the two tees as "A" and "B". Mark the straight ends of your tees as "Ax", "Ay", "Bx", and "By". The perpendicular ends of the tees should be marked "Az" and "Bz".
two 1″ PVC elbows
a length of 1″ PVC (depending upon how long you want your barrel to be – 6 feet will be adequate)
an equal length of ¾" PVC barrel
primer
cement
a plumber's tape
glue
Note: Pressure test the PVC you use to ensure it doesn't rupture.
Required Tools
plumber's saw
nail driller
Instructions
Cutting and Preparing the Raw Material
Mark a 1" PVC in half. Cut two foot long pieces of equal length from the PVC.
Insulate the Ends
Cover any threads of the PVC with plumber's tape. Omit this step if there are none.
Assembling the Basic Structure
Attach two PVC elbows to a foot long piece of PVC. Place a PVC elbow at both ends. Use primer and cement to make it stay. The elbows show both be positioned in the same direction.
Attaching the Tee's
Attach two PVC tees on both ends. Use primer and cementFix the end of the tee labeled "Az" to one end of the PVC and the other labeled "Bx" to the other end of the PVC.
Cement the Joints Properly
Connect the two pieces of PCV together at both ends. Use primer and cement. Hey should form a box.
Assembling the Outer Details
Attach a nipple to the tee at the end labeled "By".
Attach the Nipple
Screw the ball valve to the nipple.
Attach the Barrel
Screw the barrel to the ball valve.
Fix the Tire Valve
Drill a hole in the end cap big. It must be able to accommodate the tire valve. Attach the tire valve into the end cap. Glue it.
Tailor the PVC
Cut a 1" PVC to 9" long.
Attach the PVC to the Tee
Cement the open end of the tee labeled "Ay" to the PVC.
Fix the Cap
Cement the end cap.
Allow the gun to dry.
Filed Under: General How To's
About the Author: Bruno Silva is an entrepreneur from Portugal with over 15 years of experience in Online Marketing. He is also a blogger and writes on variety of topics from online marketing to designs, cars to loans, etc.
Comments (0)