By Jason Prickett on Aug 24, 2010 with Comments 0
---
Everyone thinks rabbits are cute. No matter if you are interested owning rabbits as pets or raising them for 4-H they'll need a comfortable home. Here is how you can make one yourself.
Procedure:
Materials you will need:
Length o

f

chicken wire, 24?x96?
2 door hinges
Hook and eye latching device for the door
2 sheets plywood, 24?x72?x3/4?
2?x4?s, 8? in length, 8
Two 1?x2? boards, 6? long
Staples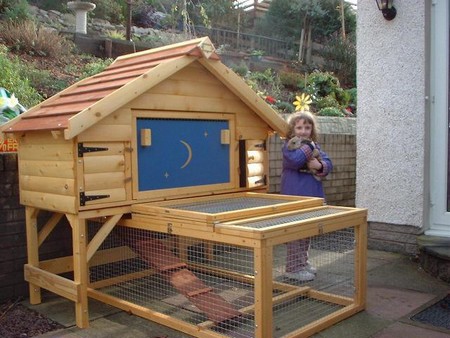 Tools:
Wire cutters
Pliers
Regular screwdriver
Hammer
3? nails, 1 pound
Measuring Tape (Learn how to read a tape measure)
Straight edge
1? nails, 1 pound
Building the Frame:
Determine the size of your hutch. The size depends on how many rabbits it will house.
Construct the frame from 2?x4? boards. Trim the 4 boards to 48? long. Cut 8 boards to 24? long. Form an L shape with 48" boards. Attach the second 48" board with nails and a hammer. Nail the end of the 24? piece to the last 2? of the 48? piece again.
Form a rectangle by nailing a second 24? piece to the last 2? of the 48? boards. Place the framing on a workbench with one 48? board facing you and the 24? boards pointing away from you.
Next, nail a 24? board to each corner of the hutch. Position the bar upward.
Nail a 48? board between the two 24? boards facing you. Repeat steps all around.
Finishing the Frame:
Cut two 2?-square pieces of 3/4? plywood. Secure them to the ends of the hutch.
Cut a 24?x48? rectangular piece of plywood. Nail to the hutch.
Cut a 48? x24? pieces of small chicken wire.
Cut one 24?x24? piece of chicken wire. Staple this to left side of the hutch. Cut a 24?x24? piece of plywood. Nail to the top of the hutch on the right side.
Cut two lengths of 1?x2? board to 46? boards.. Cut two lengths of the same board to 24? each. Attach the 24? lengths to the ends of the 46? boards.
Cut a piece of plywood to 23?x 24?. And nail to right half of the 1?x2? rectangle.
Cut a 23? x24? piece of chicken wire and nail to the right half of the rectangular door.
Attach the hinges to the 46? long top of the door. Attach the other ends of the hinges to the 2?x4?x48? board.
Attach the hook and eye latching mechanism.
Adding the legs:
Turn the cage upside down. Nail 48? long 2?x4?s to the corners of the 2?x4? frame. Legs should be equal length.
Filed Under: Home & Maintenance
About the Author: Jason Prickett loves to write about home maintenance and stuff you can do yourself instead of hiring any professional. His step by step guides will assist you in completing your home maintenance tasks.
Comments (0)