By Jason Prickett on May 14, 2010 with Comments 0
---
A linen closet is a necessity for any sized family. Having accessibility to clean and fresh towels and sheets and a way to keep them tidy and organized is essential for everyday living. You can build your own cabinet to accommodate your storage needs. This linen storage cabinet will stand 2 feet by 5 feet wide and 8 feet tall. You can  adjust these measurements to whatever your space dictates. Here is how you can build a linen cabinet.
Things You'll Need:
5 Eight-foot sheets of wood
Saw
Wood glue
50 Wood screws
Tape measurer
Paint or stain
Sealer
Freestanding baskets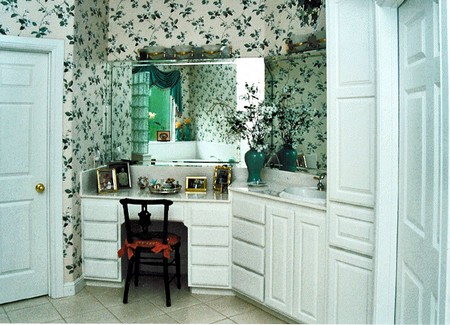 Step 1
Measure the space you plan to install your linen cabinet in from floor to ceiling. This cabinet is 8ft tall. The best part about a cabinet so tall is you can store items you don't use on the very top shelf.
Step 2
Now, you need to cut the wood for you linen cabinet. You will need to cut two pieces of wood 8ft and 2ft deep. These wooden slats are the sides of the linen storage closet. You will need to cut the top and bottom of the shelf. Every piece should be the same size, make them 2ft deep and 5ft wide. Decide how many shelves you want on the inside of the closet. Each shelf should be 2ft deep and 5ft wide.
Step 3
You will need to assemble the linen closet witch screws and wood glue. Connect all the sides and top and bottom of the cabinet. You should use four screws on each side. When attaching the top and bottom pieces, test to ensure the bottom slat fits inside the side pieces. Test this by looking at your linen cabinet from the side. The top or bottom pieces should not be visible.
Step 4
Make sure as you install the shelves are 18 inches or more a part.  This allows space for you ro store your fresh linens, sheets and towels. There should be extra space at the top of the cabinet. This space is for the items you may not use as much.
Step 5
Decorate your self so it blends in with the room. Give your shelf some style by painting or staining it. You want to also seal the cabinet after this process to protect it from moisture damage.
Step 6
You can further accessorize your cabinet by using baskets and smaller items that add personality. These baskets can come stocked with useful things such as bath soap or razors. Your guests will love it. This also makes carrying essential items to the shower easy, quick and convenient.
Filed Under: Home & Maintenance
About the Author: Jason Prickett loves to write about home maintenance and stuff you can do yourself instead of hiring any professional. His step by step guides will assist you in completing your home maintenance tasks.
Comments (0)