By Jason Prickett on Aug 11, 2010 with Comments 0
---
Things You'll Need:
Small to moderate hosiery budget
Your accurate size
A place to purchase hosiery
Every woman should have several pairs of hosiery to choose from to compliment her look. Hosiery can pull a look together and even give off an air if sexiness. There are different styles of hosiery a woman will need to invest in depending on the season. Today, hosiery goes way beyond white and flesh tone colors. There is a huge selection that vary according to style, color and even design. Here are a few easy steps that will assist you in building your hosiery wardrobe.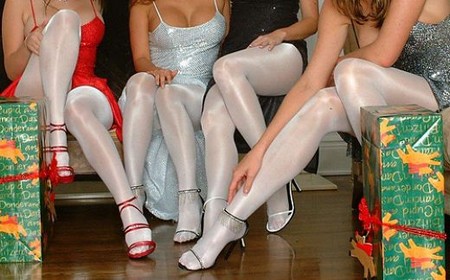 Step 1
You need to make sure the basics are covered. Start your hosiery wardrobe with plenty of fleshtone colors. Make sure you have tans, taupes and white. You should keep an extra pair with you in your carrying bag, at work or even in the car. This way you are covered if you discover your hoses are ruined. It's always a great idea to be prepared.
Step 2
Purchase some dark opaque tights. These should go very well with skirts and dresses. When you couple this style of hosiery with a shoe or boot that is the same color, your legs appear longer and your elegance is boosted. Make sure your size is correct. There is nothing more uncomfortable than when your pantyhose keep falling down.
Step 3
During the warmer Summer months, you should opt not to wear complete footed hosiery. Instead, choose a pantyhose that is footless. This way you will have covered legs, but your toes will be exposed.
Step 4
When you are deciding which pantyhouse to purchase, make sure the following colors are included: off-white, cream, ecru or light beige instead of stark white. Also, the sheer, off-black pantyhose are much more appealing and flattering than solid black in most cases. In the case of wearing a mini skirt however, solid black is a fail safe.
Step 5
Buy three or more pairs of thigh high stockings. Make sure one of these pair can be worn with a garter belt. This can boost your femininity and have you feeling great all day long. If you have an issue with your thighs rubbing together, apply a small amount of petroleum jelly to the insides of your thighs to decrease the friction.
Step 6
Purchase one body stocking. These are versatile. If your budget will only allow for one, choose a black sleeveless version or a fleshtone sleeveless version. Body stockings tend not to run as quickly as other forms of hosiery. Following these steps will help you build a very useful and beautiful hosiery wardrobe.
Filed Under: Home & Maintenance
About the Author: Jason Prickett loves to write about home maintenance and stuff you can do yourself instead of hiring any professional. His step by step guides will assist you in completing your home maintenance tasks.
Comments (0)