By Jason Prickett on Aug 24, 2010 with Comments 0
---
A new folding deck chair can be a much needed, relaxing addition to any deck or outside space. This type of deck chair folds for easy, fast and convenient storage. It is fully customizable so it can match any design or decorative scheme. You can mix fabrics and looks with your new deck chair. This chair is also great when you need extra seating space for parties or social occasions, to get inspiration, check out the best adirondack chairs catalog. Here is how you can build your own deck chair. Read on.
Procedure:
Things You'll Need:
Heavy canvas
Sewing machine
Thread
6 heavy duty buttons
1×1 inch wood (enough to complete project)
Wood saw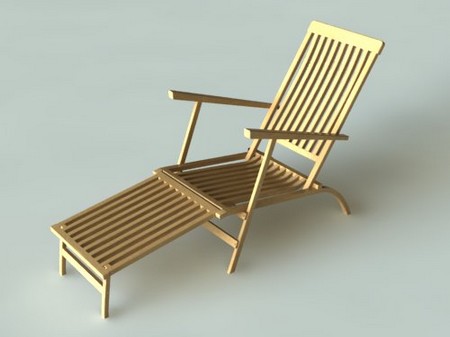 Electric drill/screwdriver
Hammer
Wood nails
Sander
Paint or stain
Paintbrush
6 Carriage bolts with slip washers and lock washers
Step 1
Calculate the dimensions of your new deck chair. Figure out how large you need the chair to be. A deck chair is comprised of a larger rectangular piece of wood and a smaller rectangular piece of wood. The smaller wooden piece should be about 21/12 inches narrower than the larger one. Also, you'll need a "u" shaped piece of wood. It should be the same width as the larger rectangle and 14 inches in height.
Step 2
Choose your canvas. Hem ¼ inches around the edge of the fabric. Along the edge, pierce the canvas to add 3 button holes. At each end sew 3 sturdy, large buttons 21/2 inches from the edge on the bottom portion. Place your canvas aside for now.
Step 3
Cut the pieces for the larger rectangle. Drill two holes in each piece. Make sure the holes are positioned a foot in from the edge. Nail each of the four pieces together. They should form a rectangle.
Step 4
Cut the wood for the smaller rectangle. Drill holes positioned 12 inches in from the edge. Drill holes from the top, instead of the side, inches from the opposite edge. Nail these pieces together to form a rectangle.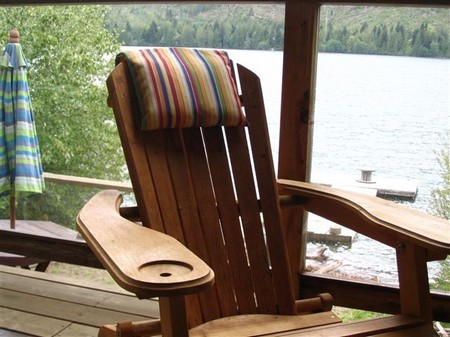 Step 5
Cut the piece for the U shape. Drill two holes, each 1 1/2 inches in from each end of the piece. Nail these three pieces to form the shape of the letter 'u'.
Step 6
Sand, paint, or stain the wood.
Step 7
Assemble your new deck chair. Position the smaller rectangle within the large rectangle. Bolt them together at the 12 inch drill holes. Attach the bottom 'u' shaped piece to the top of the small rectangle piece. Bolt together. Bolt the ends of the 'u' shaped piece to the edges of the larger rectangle. Button on your decorative fabric and enjoy!
Filed Under: Home & Maintenance
About the Author: Jason Prickett loves to write about home maintenance and stuff you can do yourself instead of hiring any professional. His step by step guides will assist you in completing your home maintenance tasks.
Comments (0)