By Jason Prickett on Aug 24, 2010 with Comments 0
---
Do you live on a waterfront property? The best way to enjoy waterfront living is to be able to enjoy the scenery from your dock. No matter if you want just want to relax taking in the sights, dock your boat or fish in peace, a dock is a great addition to your outdoor sanctuary.
Instructions
Things You'll Need:
Measuring tape
Deck bumper
Ladder
Treated lumber
Steel screws and fasteners
Cordless drill
Dock stringer
Circular saw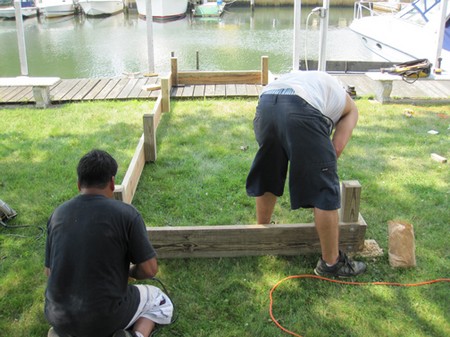 Design Your Dock
Step 1
Take a water depth measurement. You need to be as accurate as possible.
Step 2
Find out what the bottom of the water's condition is, This will help you employ the correct method needed for the support posts of the dock.
Step 3
Plan your custom dock. If you need help try and download sample plans from the internet. You can even use your deck plan and modify them to suit your needs or have an architect draw you a plan.
Step 4
Take your dock plans to a building center. Purchase some treated lumber and stainless steel fasteners for your new dock. If you need other supplies, they should be a great resource for you.
Construct Your Dock
Step 1
Find another person to assist you with your dock. Drive the support posts. These posts should be positioned no more than 8 feet apart. If you have a boat barge, and the water is deep, it will be useful here. If you do not have access to a boat barge, and the water is shallow, you may use a ladder instead.
Step 2
Attach the stringers with stainless bolts and/or screws. The stringers should be positioned at a level that will accommodate high water levels. Especially, if you the water levels near your property fluctuate during flood seasons.
Step 3
Attach the decking to the stringer boards. Leave a minimum space that measures 1/4″ between decking boards to allow rain water to drain through the dock. Cut decking boards to fit around the support posts.
Step 4
Attach bumpers to the outside of your new dock. There may be a lip over the edge of the dock depending on your choice of bumper. The bumper is a protection for boats parked next to a dock. It runs along the edge.
Step 5
If your design plan includes a handrail, secure the railing. It should be able to withstand the weight of a person leaning on it.
Step 6
Add any custom accessories you like. You can elect to place dock boxes, chairs, benches and more to make your new dock your own. Enjoy your new space!
Filed Under: Home & Maintenance
About the Author: Jason Prickett loves to write about home maintenance and stuff you can do yourself instead of hiring any professional. His step by step guides will assist you in completing your home maintenance tasks.
Comments (0)