By Fred Goodson on Aug 24, 2010 with Comments 0
---
Building a deer feeder is quite the challenge. If you have a need to attract deer during hunting season, what is more efficient than building your own deer feeder? Your deer feeder will combine the foods than deer love to eat like grass, leaves, corn, pellets and more. Deer feeders are also used in zoos and other areas. Here is how you can build your own deer feeder if you are up for the challenge. Read on.
Procedure:
Materials Needed
Instead of buying an expensive version of a deer feeder, you can build your own feeder right at home. Below are the materials that you will need for your deer feeder . Camouflage tape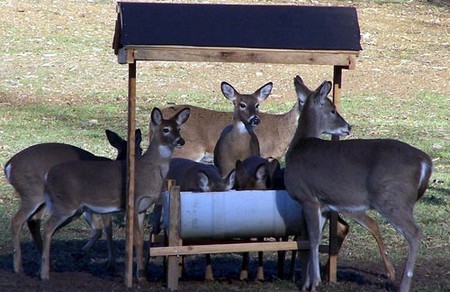 Molasses
Duct tape
Wire clothes hanger
Empty coffee can with lid, 3 lb. can preferred as it holds more
Peanut butter
These materials can commonly be found in any house hold. However, the camouflage tape may have to be purchased separately. If you can't find camouflage tape, then paint your coffee can black and brown to help conceal it.
Step 1
Rinse the coffee can thoroughly with water and baking soda. The baking soda will help to eliminate the smell of the coffee.
Step 2
Mask the surface of the can with camouflage tape. If you don't have any camouflage tape, paint the outside of the coffee can with a dark color combination like black and brown.
Step 3
Bore a hole right in the center of the coffee can just wide enough to accommodate the wire hanger.
Step 4
Bend the wire hanger in an 'e' shape through the hole. Take the end of the wire hanger and make a 90 degree circle. This prevents the wire from coming out of the coffee can. Putt the hanger taught from the open end. Hold the can by the end of the wire hanger to ensure the coffee can doesn't slip off then end.
Step 5
Drill a 1/8 to 3/16 hole into the center of the bottom of the coffee can.
Step 6
Fill the can with a mixture of peanut butter and molasses. Deer will love this sweet treat.
Step 7
Place the lid on the coffee can to make sure the mixture does not spill out of the feeder.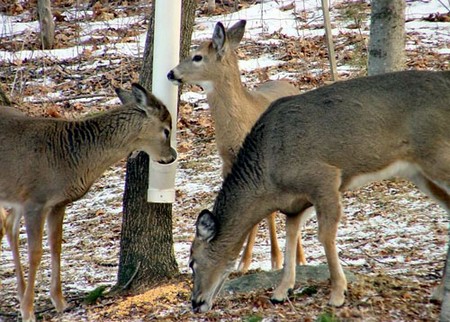 Step 8
Hang the can at a location that is within proximity of the shooting area. A sunny place 4 to 5 feet above ground would be ideal. The peanut butter and molasses mixture will begin to melt and seep onto the ground. The smell will attract the deer.
Step 9
Refill the peanut butter and molasses mixture promptly as needed.
Step 10
Watch as the deer come to enjoy your new feeder.
Filed Under: Pets & Animals
About the Author: Fred Goodson has a passion for pets and animals. He has 4 dogs and is planning to have another one. He is also a blogger who writes about pets and animals. Currently, he is living in New Jersey.
Comments (0)