By Jason Prickett on Aug 11, 2010 with Comments 0
---
The boat docks are required for mainly docking the boats in. They are also useful in different ways like playing, hanging out with friends, fishing etc. Boat docks can be easily built if you know little about the basics of carpentry stuffs.
Before starting the construction of the boat dock, there are several things to be considered. If the place is a shallow one, then you will need a long docking area, to have lot of water. If the place is a deep one, then it's up you to build a long one or a small one. Gather all the details of the place, where the dock is to be built. With this information draw a perfect plan, that will suit your space available and your budget. Plan can be easily got from the internet or from the specific books on docking. Take all these details to a hardware shop, where you can get the required materials for preparing the boat docks. The materials would vary for every dock. But mostly the 4-4 inch or 2-6 inch boards are used for preparing docks.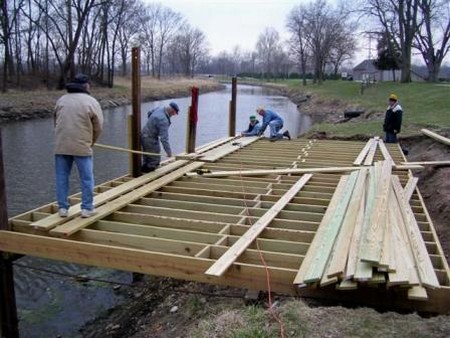 First construct the lounge area of the dock, put it with screws, bolts and make it available with the bumpers. Do make use of the bumpers in the boarding place, as they are very essential for avoiding any damage to the boarding wood. The next process is to make the posts in the water. This process is called as driving the posts. This is the most important thing in the building of boat dock. This will make sure that the dock is fixed to a particular place, and a mobile one. The height of the post will decide whether it is a floating type or an ordinary type of dock.
The driving of post beneath the water is an important process; if you are not able to do it's better to get help from professionals. Mostly the fresh water places would be very marshy hence it would be dangerous and difficult to drive the post without prior safety measures and without any help. Once the process of driving the post is finished, the next step is to fix the lounging area to the posts. Bring the lounge part and fix it over the driving post. Fix it well using nails, dowels, and screws. Once all these things are finished the lounging area will be very difficult to remove off, hence do the building process very carefully. Be sure you are well protected during the building process. Wear gloves, shoes during nailing, wear glasses to prevent you from saw dusts. Keep the electrical appliances away from the water. Do the building process always with a companion.
Filed Under: Work & Careers
About the Author: Jason Prickett loves to write about home maintenance and stuff you can do yourself instead of hiring any professional. His step by step guides will assist you in completing your home maintenance tasks.
Comments (0)