By Vanessa Page on Nov 03, 2010 with Comments 0
---
Working as a good team player is a necessary part of life. In order for a team to succeed, every member must have the ability to work together. In order to emerge as an effective team player, you must know all the fundamentals. This involves determination, communicating, coordinating, and a willingness to work hard and commit to the team's goals. Knowing how to work as a productive team player can have a major impact on your career and proves necessary for personal development and success in life.
Be responsible. If someone asks you to do something, do it. Carry your share of weight for your team. Show up for work on time. When each member works well together, work efficiency generally increases as well.
Offer to help another team member. You can do this by asking if they need some input and encouraging them. If you finish your task, provide help to take some of the load off a member to increase overall team productivity. If you can demonstrate an ability to help others, you will get noticed as well.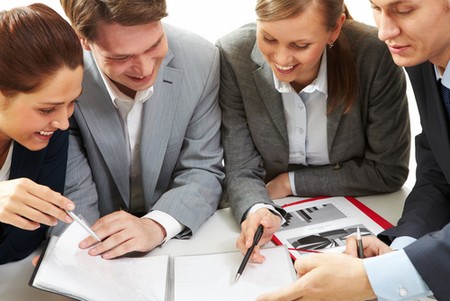 Give feedback and participate in team meetings and focus groups. A good team player shares ideas and knows how to acknowledge good ideas.
Communicate effectively. If you have an issue with a task, share it. It's okay to let the other members know if you think the idea lacks something. Just learn how to show respect for others' feelings when you express opinions.
Practice honesty. If something doesn't seem to work well, inform the team right away. Honest information plays an important role in the team's overall success. A team won't function well if it experiences a lack of communication or misunderstandings in the group.
Learn your strengths. If you have something valuable to offer to the group, discuss it. Offer to take care of the role you know you can do well. If you know more about a task with which your team members struggle, teach them how to do it. This will help you make a meaningful contribution and enhance the team.
Learn how to come across as an attentive listener. Team members who genuinely listen to one another can work more efficiently toward shared team goals. Listen to other team members' ideas without judging them. Becoming an active listener might prove difficult for others, but it's important to exercise patience and respect for a team to work efficiently.
Build relationships with other team members. Arrive at meetings with a good attitude. Be flexible to new changes and ideas. Portray yourself as a friendly person dedicated to the team. This lets your team leader know you care about being productive. If a problem develops with another member, do your best to solve it. Address the issue right away or (if absolutely necessary) consult a supervisor.
Filed Under: Work & Careers
About the Author: Vanessa Page works a career counselor in one of the leading firms in Los Angeles. She is also a blogger and gives tips on how people can tackle their work and career issues. She has 8 years of experience in this field.
Comments (0)