By Vanessa Page on Nov 03, 2010 with Comments 0
---
Bartending can prove a wonderful way to make money. To find success as a bartender, you will have to know how to mix delicious drinks and have sociable and friendly personality, enabling you to interact appropriately with guests. You also need to check the beer and liquor stocks and make sure everyone at the bar has what she needs. Working as a bartender can be very stressful yet fun experience.
Enroll in a bartending class. Although you don't need a particular official certification to work as a bartender, enrolling in a bartending school is a great way to start learning about the profession. Apply as a student at a bartending school or take a one-time course in bartending. These courses or schools will help you gain general knowledge of bartending techniques, equipment and the process of mixing drinks. Join an online bartending school like this one https://www.spiritlablondon.com/ if you do not have the time to attend a class.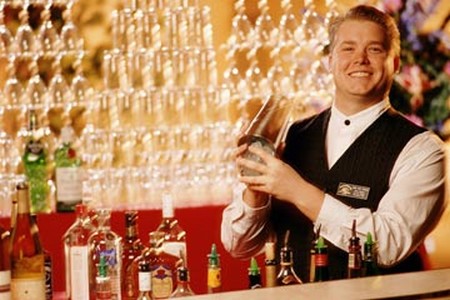 Secure a liquor license. You can do so after passing a test addressing the necessary skills when bartending. Not only will you find yourself mixing drinks, but as a bartender you'll have to know how to handle someone who has had too much drink. The license serves as proof that you know how to responsibly handle these kinds of people at the bar.
You will need to learn how to handle different personalities in a bar while creating a fun and exciting atmosphere. You must know how to mingle with customers and practice responsibility. Often people become difficult when they have too much to drink. Learn how to tell customers they cannot have any more to drink.
Learn the most common drinks and cocktails. A bartender must know what alcohol and other ingredients go in specific cocktails and drinks. Have a working knowledge of the most popular drinks served in your bar as well as the usual list of favorites. Purchase a general bartender's recipe book. You will need to practice and perfect the different kind of drinks in order to find success as a bartender.
A good bartender knows how to mix new drinks. Learn how to create signature drinks. This skill will appeal to bar owners and work in your favor when you apply for appropriate jobs. You'll also more likely build a set of loyal customers.
Organize the bar and practice preparation. You want the bar to run smoothly and not chaotically. You will need to stock plenty to keep all customers satisfied. Keep the bar clean at all times. You should always clean up after a service because no one wants to order from a messy bartender.
Project a professional appearance. You need to appear confident and in control of the bar.  Dress properly for the environment. This profession is also a great start if you want to open your own distillery someday. When that happens, remember that there are quality distilling equipment including mash tuns, fermenters and more at North Stills with the equipment you need to keep your distillery production running.
Filed Under: Work & Careers
About the Author: Vanessa Page works a career counselor in one of the leading firms in Los Angeles. She is also a blogger and gives tips on how people can tackle their work and career issues. She has 8 years of experience in this field.
Comments (0)