By Vanessa Page on Oct 28, 2010 with Comments 0
---
While anyone can become an interior decorator, a certified home interior designer requires years of work and study. The career choice doesn't simply involve having the ability to turn a dull room into a more attractive one. Careers in home interior design require knowledge of both safety issues and architecture. These professionals can manage custom orders, craftspeople and custom orders. To have a career as a professional home interior designer, you must secure certification and abide by federal, state and local codes.
Learn that an interior designer must know more than just how to decorate a space. You must have the ability to read a blueprint and know how to communicate with engineers, architects and clients. Obviously, the profession goes well beyond just making an interior look more attractive.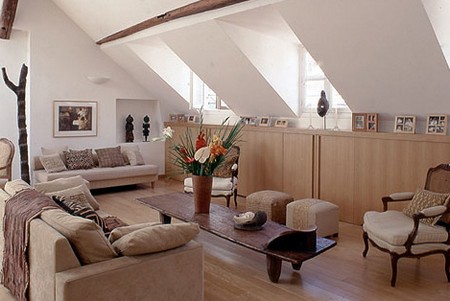 Go to a school on the Council for Interior Design Accreditation's recommended list. Designers at the entry level must hold an associate's degree at minimum, with a bachelor's degree opening up even more opportunities. If you have no degree, typically interior design businesses and firms will not even consider you as a viable candidate who possesses the required skills for appropriate job opportunities and internships.
Take additional courses to master software programs that teach you more about the practice of interior design. AutoDesk and AutoCAd remain two important pieces of software that can teach you more about illustration and plotting; further, thereby improving the prospects of your potential starting salary.
Take a course about business planning and marketing strategies. Learning how to plan a business will provide you an extra start on running your own business. Having business skills will also teach you how to face and analyze potential clients and increase job efficiency.
Find a job or internship program. Have a good relationship with your school facilities. Your contacts might lead to a future job. According to My Interior Designer, in order to be a qualified designer you must have "a combination of six years of work experience, two years of schooling plus four years of work experience, or four years in a [CIDA] accredited university or college plus two years of work experience."
Inquire with your state's regulatory agency regarding how to become a licensed interior designer. Visit the National Council for Interior Design Qualification website for your state's requirements. You must take and pass this test before you can proceed.
Build a portfolio. Compile a collection of samples of your work and any other documents or recommendations to show why potential clients should hire you. Include detailed photographs of your work to make your portfolio look professional. Add in a design board of samples of materials such as fabrics, paint, wallpaper, etc.
If you plan to build your own interior decorating business, you must learn the business. Consider starting as an employee with other firms before starting your own business. Contact other interior business and work as part of the team. Prepare a resume that emphasizes your style and have the right skills to show you would make a good employee.
Filed Under: Home & Maintenance
About the Author: Vanessa Page works a career counselor in one of the leading firms in Los Angeles. She is also a blogger and gives tips on how people can tackle their work and career issues. She has 8 years of experience in this field.
Comments (0)