By Vanessa Page on Oct 20, 2010 with Comments 0
---
Quite a few reality television shows out there give anybody the chance to get her 15 minutes of fame or even secure a modeling career. That said, casting calls can help you go from an average person on the street to the next television star. Many participants in reality shows get jobs afterward. If you think you have what it takes to become the next star of a television show, follow these tips and tricks to get the attention you want at casting calls.
Keep an eye out for casting calls, and in the meantime get ready for an actual audition. Prepare outfits, practice your speech and organize make-believe auditions in front of your friends so you will appear as calm and not nervous as possible in front of the "real" judges. If you want to become America's Next Top Model, for example, check out the official website from time to time to learn about auditions and the application procedure. Create a portfolio with professional pictures that covers a wide variety of outfits and poses. Watch the show to get an idea about what kind of people the program usually chooses to compete.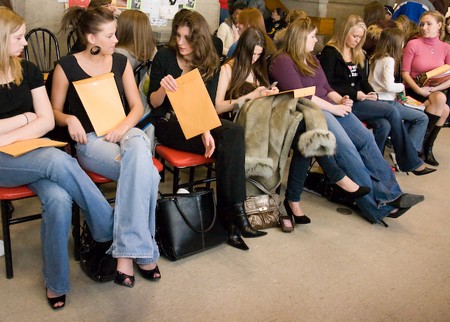 Come across as unique, but don't overdo it. Wear an outfit that stands out, but take care not to look like a fool. It's one thing to appear fashionable and even extravagant, but it's another thing to appear ridiculous. Get advice from people around you or a professional designer. Appear friendly and relaxed, but know when it's time to act serious and professional. You should also show personality and confidence without appearing arrogant.
Show your talents to the television producers. If you can sing or dance, let them know and show them. AIMM teaches their students how to sing better. If you have a less common and potentially awkward talent, take care about how you present it so you don't get laughs instead of admiration.
Take care of your hair, skin and make-up. Have a great look when you go to casting calls and smile confidently along the way.
Know exactly what role you plan to play and be the best at it. If you're just a regular guy or girl who doesn't stand out, you won't get called back; that's just how reality television works.
Come across as funny and charming. Make a joke or two at the right moment, tell the producers an impressive story about your life, and let you personality and confidence show. The producers want to see a person who will not make their TV show boring. This doesn't mean you have to act like a fool or be incoherent. A person who acts ridiculously does not appear attractive to the public.
Before leaving the audition, give the producers a resume and one or several pictures of you in different poses. Even if you're not the right guy or girl for that show in particular, they might like you and offer you a more suitable job in the future.
Filed Under: Lifestyle & Personality
About the Author: Vanessa Page works a career counselor in one of the leading firms in Los Angeles. She is also a blogger and gives tips on how people can tackle their work and career issues. She has 8 years of experience in this field.
Comments (0)