By Leona Kesler on Oct 20, 2010 with Comments 0
---
You personally went to the supermarket to obtain the best ingredients to set up your signature dishes. Your neighbors can't help but find themselves mesmerized by the aroma of your freshly brewed espresso as it wafts around—and suddenly, you find them at your doorstep! You really love to cook, and it shows from the way you personally choose the ingredients until the last minute of the process. Now the time has arrived for you to pick and decide your specialty in order to construct your career in the culinary arts.
Select a line of courses you need to take to become a chef if you want to gain the high opinion of those who can make ordinary ingredients into magical and mouth-tempting dishes. Over the years chefs have preserved and kept their standards when it comes to their ability to gratify the appetites and yearnings of those who appreciate fine food.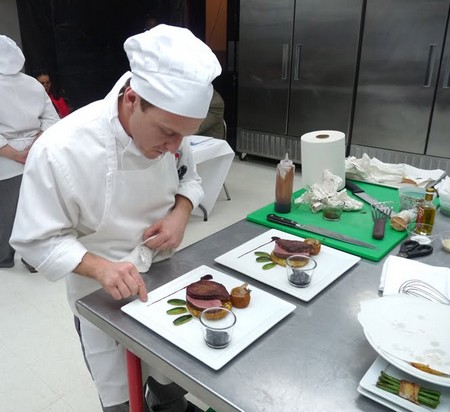 Obtain extensive training from different classes that will help you learn more techniques and skills if you want to make it as a culinarian, a food expert who serves as a food consultant for eating establishments on what to improve on their menus.
Consider a career as a pastry chef if you love creating sweet delicacies that melt in the mouth. Pastry chefs function as experts in making desserts and confections. Most of them accept offers from distinguished restaurants or in five-star hotels that offer elegant and classic sweets to their loyal customers.
Choose a career in food testing if you love to research a variety of recipes until you perfect the process. Ample of cooking magazines on the stands provide recipes you can review and try in your own kitchen until you master the procedure and method used.
In any other field, the more experienced you have and the higher a degree you have obtained, the more chances you have of getting a better and a higher position. Train yourself to become an executive chef, sous-chef, line chef or pastry chef; alternately, work as a support position in the kitchen as a prep cook or hot line assistant. This will pay off later on.
You can start a catering business if you have confidence and take pride in sharing your own personal recipes. This option proves especially attractive if you feel you don't yet have the experience for a full-fledged restaurant. In this case, you have the luxury of managing your own schedule. You can also start your catering business at home, provided you have passed all necessary requirements and regulations.
If you love making food look fabulous and artistic in its presentation, then consider a career as a food stylist. Check out the many opportunities for food stylists who work with food and photographers. You must have a background in plating to succeed in this kind of business.
Filed Under: Food & Cooking
About the Author: Leona Kesler is a head-chef at a very popular food restaurant in New York. Also she is a blogger who shares her experiences, tips, and other informative details about food and cooking. Her recipes are featured on many magazines.
Comments (0)