By Andrew Reinert on May 03, 2010 with Comments 0
---
A physical therapist, also known as a PT, takes care of patients who have physical incapacities due to disease or an accident. Often times a disability attorney will send a client to your office to be evaluated and possibly treated. Just as commonly, a physical therapist plans the patient's rehabilitation with the suggestions and recommendations of physicians and other medical experts. The rehabilitation therapy may take weeks, months or even years, depending on the severity of the disability. Deep-tissue massages, ultrasound treatments and exercises may be included in the therapy.
Steps
Acquire a Master's or at least a Bachelor's degree in physical therapy, as these are required for those who want to practice physical therapy. Anyone who wants to be a physical therapist must study a number of science courses like biology, physics and chemistry.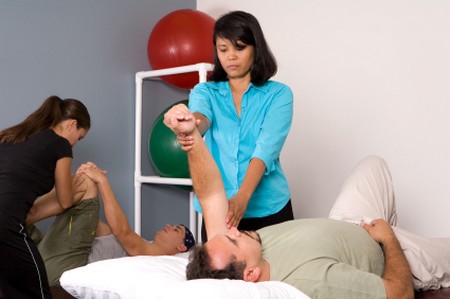 Develop excellent interpersonal skills. A physical therapist must be able to communicate effectively and compassionately with others since he will usually have to give encouragement to frustrated patients and their family members regarding long-term physical therapy and the emotional issues that come along with it.
Do research on the website of the American Physical Therapy Association (APTA) for more information regarding the physical therapy field at apta.org. Check for recent information about the field of physical therapy and take note of the list of schools accredited by APTA when you choose which school you'd like to attend.
Get good grades. An aspiring physical therapist should keep an outstanding grade point average to make herself more marketable. The field of physical therapy is highly competitive, so the better your credentials are the better chance you have of succeeding in this field.
Check the hiring forecasts of medical institutions to stay ahead of the game. Ask for this information from rehabilitation centers, private therapy practitioners and local hospitals. See if you can get internships in institutions that might hire you after you graduate from school.
Review for the licensure exam and take it after completing your degree program. Passing this exam is mandatory for you to be able to practice being a physical therapist. Learn about your state's specific licensing requirements even before your graduation so you can have more preparation time if necessary.
Think thoroughly and finalize your decision regarding which area you want to specialize in. You may specialize in areas like pediatrics, neurology as well as sports rehabilitation and sports medicine. Each area has its own pros and cons, so take those into consideration. Consult with your career counselor regarding any additional degrees or trainings that will be required for a particular specialty.
Tips & Warnings
Take note that a great number of states require physical therapists to continue taking workshops or classes in order to maintain their licenses.
If a person graduated with a Bachelor's degree in another field, he can still earn a physical therapy Master's degree from most institutions that offer the program.
A physical therapist must be in healthy physical shape she will use her muscles in performing physical therapy.
Filed Under: Health & Personal Care
About the Author: Andrew Reinert is a health care professional who loves to share different tips on health and personal care. He is a regular contributor to MegaHowTo and lives in Canada.
Comments (0)