By Andrew Reinert on May 14, 2010 with Comments 0
---
An eye shadow gives your eyes a lively effect. It is one make-up piece that is even preferred by rock stars. It gives the eyes a look of being deep-set and distinct. An eye shadow looks best if worn with sharp effects. Whatever be the occasion, an eye shadow can be given a sharp effect, even without overdoing it.
Things needed are:
Tissue paper
Eye shadow
Brush
The first basic step to give your eye shadow sharp effects is to hold the tissue paper in place when you apply the eye shadow. For this, fold a tissue paper in a way that the folded edge forms a straight line. Hold this paper against your eye's outer corner, such that it slants upwards, towards your temple. This tissue paper will act like a stencil.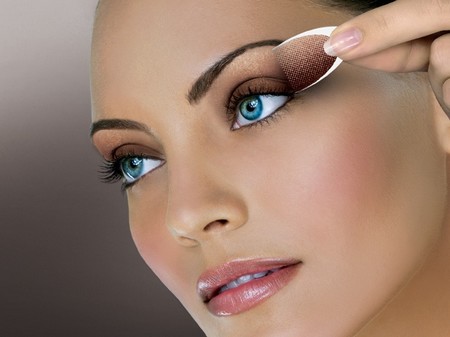 Take a medium brush in a hand and hold the tissue paper in place with the other. Dab the outer portion of your eye with eye shadow. To even out the layer, brush it outward, where the tissue is. Using a tissue paper ensures that you get a solid layer of the eye shadow that gives a sharp and distinguished look rather than an uneven layer fading at the edges.
Remove the tissue from the eye. You will observe that the edge of your eye is well defined. Throw away this tissue and repeat steps for the other eye with a new tissue paper. Make sure that you put the other tissue on the same spot corresponding to that of the first eye. This will ensure the eye shadow to be symmetrical and evenly balanced.
For an even more dramatic effect, mix your eye shadow with pigments, to have a more pronounced and sharp colour.
Things needed are:
Eye shadow
Loose pigment powder
Eye drops
A tidy mixing surface (like a palette, a CD case, etc.)
Scrape some eye shadow on the mixing surface. Next, mix the pigments in it. Use pigment as per required colour density.
Gather the mixture in a way that a small mound is created on the surface. Add one drop of the eye drops. Mix till a paste is formed. If the paste has lumps, add a few more drops of the eye drops. In case the paste is too watery, mix a little more of the eye shadow or the pigment.
Use the brush for applying the paste evenly on your eyes. Follow the above-specified procedure only to make your eye edges look sharper and well defined.
Eye shadow makes your eyes look prominent and emphasises them. Decide the shade yourself. Choose sonething that not only enhances the colour of your eyes but also goes with your chosen attire. Use a darn colour for evening occassions. A light shade will be preferable for day-time. Try different amounts to know what suits you the best. If the edges of your eyes are well defined, a light shade will also look good and sharp.
Filed Under: Health & Personal Care
About the Author: Andrew Reinert is a health care professional who loves to share different tips on health and personal care. He is a regular contributor to MegaHowTo and lives in Canada.
Comments (0)