By Arthur Kunkle on Feb 20, 2010 with Comments 0
---
Before you start adding any furniture and furnishings, there may be a few special decorative effects you would like to consider that will bring just a little originality or a certain clever visual effect to your balcony scheme. An indoor/out­door hybrid like this can take advantage of some of the more inventive trompe-l'oeil and design tricks usually reserved for the home, or sometimes the patio. Since the majority of effects are concerned with creating the impression of space within a rather limited area, they can be particularly appropriate once adapted and applied to an outdoor location such as a balcony.
Using colour successfully
Use of colour is one of your most effective tools: white and pale colours give the impression of light and space; darker colours draw it in and encourage a sense of drama and cosy seclusion. Plenty of white paint on trellis-work, plant containers and the back wall is a quick and easy way to add a cheery brightness, although beware of using too much of it on a hot sun-trap balcony as the glare will be unbearable. Pastel shades are softer but still give the impression of light and space: creams, pale blues, greens and greys, which are the smartest, most fashionable choice for modern balconies. These colours are widely available not just as paints for decorating walls and woodwork, but also as timber stains and varnishes should you wish to continue the theme over the floor decking or trellis, and in paving materials and fabrics for a completely co-ordinated look.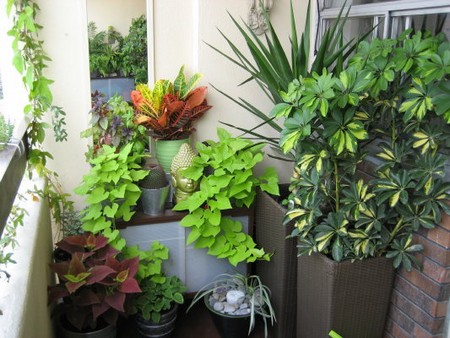 Trompe-l'oeil
People with more artistic talents and a sense of humour may like to try their hand at a trompe-l'oeil painting using a suitable range of exterior paints. This might take the form of a beautiful but fake view on a section of screening which in fact hides a much grimmer reality. On a dull concrete or brick back wall, you may prefer to paint a jungle of exotic plants or a trailing climber if you do not have the space or climate for the real thing. A vigorous vine permanently hung with luscious fruit would make a wonderful backdrop to a sophisticated outdoor dining area with, perhaps, a real, ornamental vine twining overhead to continue the joke. Tricks such as these look particularly effective when framed by an arch, a fake window, door or gateway encouraging the impression that the balcony extends further than it really does. The effect could be created using shaped sections of trellis, or slim stone or brick facings to match the existing wall. Painting these an all-over colour will successfully heighten the illusion.
Using mirrors
Another clever way to suggest that the balcony is in fact bigger than it actually is, or that there is something of great beauty just beyond its limits, is to insert a section of mirrored glass into an arch or alcove, effectively doubling the view of your balcony. This is especially stunning when it reflects a mass of well planned plants. If you really want to fool the onlooker that thete is another lovely area through the arch, place light trellis-work over the mirrored glass as well, to confuse the eye still further.
Filed Under: Uncategorized
About the Author: Greenery always attracts Arthur Kunkle. He has a big garden where he plants many fruits and vegetables. His passion for gardening motivates him to write and share different tips on gardening.
Comments (0)