By Arthur Kunkle on Feb 20, 2010 with Comments 0
---
If you take its limitations into consideration and adapt your ideas accordingly, all things are possible on a balcony. There is no reason why you should not incorporate a water feature in your plans. In fact, so long as it is carefully planned and sensibly installed, a small pool or moving water feature can be a real asset, giving life and sparkle to your scheme. The sound and sight of water also have wonderful relaxing qualities, so are particularly appropriate to this high-level retreat and antidote to executive living.
Considering the weight
The biggest problem, as usual, is weight; water weighs 4.5 kg (10 lb) for every 4.5 litres (1 gallon), and that does not include the weight of the container. However, one of the smaller features should be possible, even if it is only a head spouting water into a small bowl fixed to the back wall of the balcony. A small raised pool could be incorporated among your built-in features – a plastic liner faced in matching brick, timber or tiles. With the addition of a small underwater pump this could even include a modest fountain effect, or you could design two pools arranged on different levels, with one running into the other in a most soothing manner. Alternatively, you might buy one of the pre-formed (and lightweight) fibreglass pools, although you will have to disguise it in some way.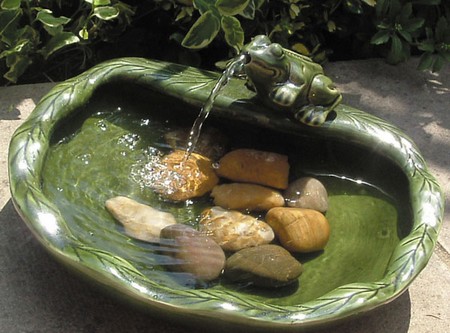 The simplest and quickest option is to create a miniature pool out of an old half-barrel or any waterproof plant container — it could be a glazed terracotta or stone urn, or even a plastic trough. This will be big enough for one or two interesting water plants, perhaps a miniature waterlily, or, if you prefer, a small bubble fountain or some small fish.
Moving water features
Small moving water features, operated by an electric pump and incorporating a hidden reservoir for recycling the water, are even more economical on weight and space. Water can be designed to cascade over a rock, a metal ball or collection of pebbles, or to spout out of a wall-mounted ornament. There are also free-standing water features such as fountains, urns and sculptures. With any moving water feature, it is important that you choose correctly for the size of pool or reservoir. Splashing and spillage could ruin your balcony and also mean you will have to keep topping up the water level.
Filed Under: Uncategorized
About the Author: Greenery always attracts Arthur Kunkle. He has a big garden where he plants many fruits and vegetables. His passion for gardening motivates him to write and share different tips on gardening.
Comments (0)