By Arthur Kunkle on Feb 20, 2010 with Comments 0
---
All these structures provide the oppor­tunity to use climbing plants and often somewhere to sit. The two main materials used are timber and metal, although stone or brick pillars may be used to support a pergola just like the ones on sale by pergolas scotland.
GAZEBOS
A gazebo is usually built away from the house or main patio in a more remote part of the garden. Many years ago it would have featured in very large gardens as somewhere to sit and admire a distant vista or part of the surrounding countryside. It was often positioned to catch the late afternoon or evening sunshine. In many cases, a gazebo can be raised slightly to give a feeling of inde­pendence, even seclusion. The structure is nearly always round, hexagonal or octagonal, with a paved floor. The roofing system needs to be at least 2.1 m (7 ft) high, pref­erably higher because climbing plants are usually encouraged to climb over it.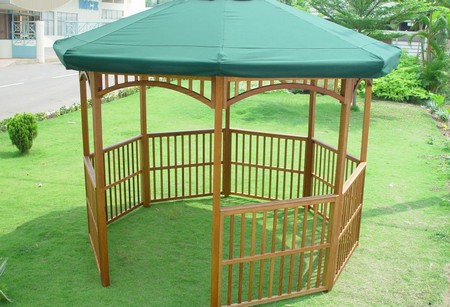 Although it is a useful feature in large or rambling gardens, there is no reason why a gazebo should not feature in a small garden, especially if it can be positioned to take advantage of a splen­did, distant view.
PERGOLAS
A pergola is, in general, less likely to be quite so self-contained. It is usually a series of horizontal timbers or wooden beams, supported by timber, brick or stone pillars over a grass or paved walk, turning it into a tunnel for climbing plants. The sides are largely open but with the plants and perhaps substantial brick or stone pillars, it can feel partially enclosed. From a design point of view, it ought to lead from one feature or area to another, thus giving it some purpose. The feature should always be drawn to scale first in order to ascertain its overall width and height, along with an appro­priate thickness for timbers or pillars. Hardwood or pressure-treated softwood can be used and any metal work that might be present must, of course, be treated with a rust-proofing agent, although the use of non-ferrous metals will avoid the problem of rust.
A pergola can also be positioned over part of a patio to provide some shade or privacy. Here, in particular, would be a good place to grow fragrant climbing plants. Hanging baskets and various types of outdoor lighting can also be fixed to a patio pergola.
Filed Under: General How To's
About the Author: Greenery always attracts Arthur Kunkle. He has a big garden where he plants many fruits and vegetables. His passion for gardening motivates him to write and share different tips on gardening.
Comments (0)