By Jason Prickett on Aug 20, 2010 with Comments 0
---
Three-way switches are one of the commonly used switches, where the switch is capable of controlling a light or any electronic device from two different places. It allows you to turn the light on or off all the location. Usually these types of switches are found under the stairs, in the hallway etc, this is available in most homes mainly in the multiple entrance rooms.
The arrangement of the Three-way switches may look complicated but in reality it is a simple connection. But the connections must be given in proper manner or the circuit will not work properly. Three-way switch has some basic rules for wiring. This article will give you a clear idea about the wiring for the Three-way switch.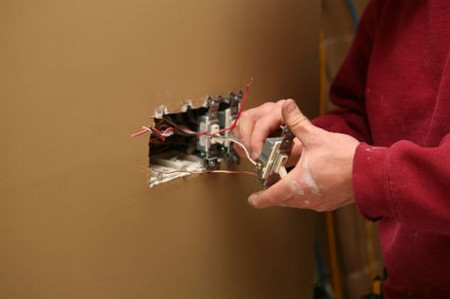 Here the wiring is of four main types, they are
Light – Switch – Switch
Switch – Light – Switch
Switch – Switch – Light
Switch – Switch – Light – Circuit
Tools and materials needed:
Screw driver
Wire stripper
Electrical tape
Two three way switch
14/3 cable
14/2 cable
Steps:
Safety is the first and the foremost thing you must do. Turn the power off supply where you are going to work. Make sure that your hands are dry enough to touch the wires. Try to wear protective gloves. Don't leave any live wires exposed you could get shock. Follow all the safety steps before wiring.
Now it's your time to remove the over cover of the switch.
If the connection is already given means, unscrew all the given connections.
In the switch box take a switch that carries power supply to the switch box using a 14/2 cable. In this you will have a phase or the hot wire and the neutral.
Now in the second switch location, take a 14/3 cable for the power supply.
From the secondary place take a 14/2 cable to the light box.
Now join the neutral wire of three way switch with the neutral of the main power supply from where the power to the three way switch is taken.
Fix the phase or the hot wire (black) to the common screw of the three way switch.
The remaining 14/3 wires (red or black) available should be connected to the other screws available in the three way switch.
Take the white wire from 14/3 cable and connect it to the light.
The connections are done in the same manner here also; follow the instructions given for the first switch.
If you find any exposed wires, then using electrical tape covers it. This will avoid you from getting shock.
At last cover unscrewed the switch boxes switch on the power supply. Now the three way switch is ready.
Filed Under: Home & Maintenance
About the Author: Jason Prickett loves to write about home maintenance and stuff you can do yourself instead of hiring any professional. His step by step guides will assist you in completing your home maintenance tasks.
Comments (0)